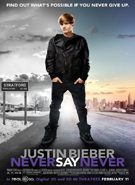 Before I took my 9-year-old daughter and two of her friends to see the PG-rated Justin Bieber movie, "Never Say Never," they all claimed not to be fans.  Two hours later, the Bieber fever had taken hold.  Wow, that was fast!   For those of you out there debating whether or not to take your kids to see the movie, here is my Manic Managed Mom review.
I wouldn't say that I left with Bieber fever, but I gotta hand it to the super star kid, he is a musician.  He can sing, beat the drums well, play a beautiful acoustic guitar, sing a lovely ballad while playing piano and he can dance.  With the 3D glasses and screaming, singing and applauding girls all around us in the movie theater, it almost felt like we were at his live concert.
I liked how involved Bieber's grandparents have been with his upbringing because I do believe it takes a village.  I liked that the movie showed the downside of fame, as well as the thrill.  I also enjoyed seeing the Bieber team randomly hand out tickets to kids who would not otherwise have the means to attend his show.
I also liked that the movie highlighted that good health and rest is crucial, especially for a teenager, who is growing daily.  I also liked the pre show group prayers.
Justin seems to be a likable kid who is genuine and warm.  And it was interesting, almost scary, to see him voice his concern about missing out on a normal childhood.  His team seems to let him make his own choice about that, but his burning desire to be on stage won out every time.
And when he is on stage, I have to admit, that kid is pure, raw talent.  The kind of talent that a person is born with.  His gift was showcased in several home videos that show Justin, as a toddler, hitting a drum and getting the melody just right.
I also like the heart symbol that Justin and his fans make with their hands to communicate.  In today's world with so many crude symbols, a simple heart is a nice gesture to see my kid display.
I went into the movie skeptical.  I viewed this kid as a temporary pop sensation and hoped that the movie would keep it all clean.  I was happy to see that it was good, clean fun.
I hope he continues to keep it clean.  I hope that he goes down the right road as he continues his super star journey.  Fame can have many pitfalls, so I say a little prayer for this cool kid that he will be able to avoid the dangerous detours that kid stars like Lindsay Lohan go down.
And for now, I thank him and the entire production team for making a movie that I could take my daughter to, tap my feet to and not cringe each time an inappropriate word was uttered or a too-mature scene appeared.  Thanks for keeping it clean, fun and honest.  This manic managed mom appreciates that.
And while I'm sharing my own Mom movie review, there is a wonderful site for parents that gives scene-by-scene descriptions for parents to consider before the movie ticket is purchased.  Check out kids-in-mind.com for content explanation that is grouped in categories that include sex & nudity, violence & gore and profanity.
So, my final assessment is that the film is worth the cost of the movie ticket, but beware, as your daughter may just leave with a slight fever, Bieber fever that is!