Manic:  Want to know how to tease the crown in the back of my hair (and my daughter's) quickly and correctly, to get that added volume that looks so good when done right.
Managed:  Asked our hair stylist expert, Angelic to show me step-by-step how to tease the crown of the hair to get that perfect lift.   Not only did she show me how, but she told me that the 60's bouffant bump is back in style this season, along with fake eyelashes.  I love that Jackie O and Audrey Heburn look.  Read on to see today's updated bouffant and how to achieve it, with the right comb and tricks.
1.  First Angelic recommends buying her favorite brush for getting the best bump.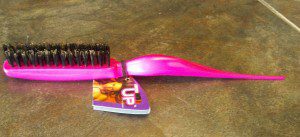 Called Amped Up by Cricket, it sells for $6 at Angelic's salon called Backstage Salon & Spa (http://www.backstagesalonandspa-tempe.com/Home_Page.html) in Tempe.  The brush, that comes in several bright colors, is made with soft boar bristles that gives hair the maximum teasing height without damaging side effects.
The brush is also sold on a variety of beauty sites and on amazon.com.
 2.  Next take a section and hold the hair straight up, as Angelic does in this picture.  Comb hair in short strokes downward. 

 3.  Then lay that piece down, and grab a second section.  Notice how Angelic uses the end of the brush to evenly grab a section of hair to tease.  Cool trick.  You can stop here or grab a third section based on how much hair you are working with.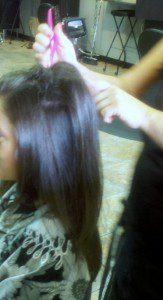 Check out how it looks before Angelic smooths the tease.  This gives you an idea of just how high to tease the hair before doing the final smoothing step.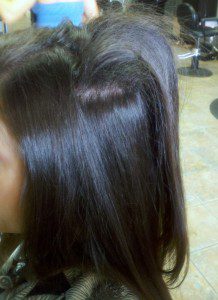 4.  Now for the final step, simply and lightly use the brush to smooth over the teased sections, so that it lays nicely.  Here is the finished result. 
 Easy, plus this adds volume and lift and is back in style this season.  Happy styling!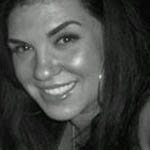 Angelic Papadakis, Hair Stylist & Owner of Backstage Salon & Spa.
Angelic has been a stylist in the Valley of the Sun for more than 15 years.  Specializing in precision cuts, Angelic has  taken her passion for hair and transformed it into her salon, Backstage Salon & Spa in Tempe, Arizona.
Read more about Angelic on our team bio page
What are your favorite hair teasing tricks?  Tell us here in the comments section.