Manic:    My skin is changing in my 40's, so should my foundation change?
Managed:   Asked Celebrity Makeup Artist Karen Hall what her top pick for a foundation is for all skin types and ages and her answer may surprise you!  Read on to see… and this does work well on my face!   Thanks Karen!
Karen says:
My all time favorite base…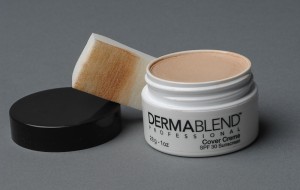 People are always surprised when I tell them that the base I personally use, and use on my clients, is Dermablend Cover Cream (www.dermablend.com).  "Isn't that too heavy?  Isn't that for people with scars?" they ask. 
Well, yes, and no…It depends on how you use it.  It was originally formulated for those who need a lot of coverage, but to use it that way, you have to dig it out with the little spatula that comes with it, and apply it thickly over the scar or blemished area.  However, it can also be the lightest base you'll ever use, and give you a flawless finish with very little product! 
If you have ever used a powder base, such as Lancome's Duel Finish, or MAC's Studio Fix, you can use Dermablend the same way….simply run the sponge over the product VERY LIGHTLY, as if it was powder…..this is the key!  It is so fast and easy, and your skin will have a beautiful even tone! 
If you do have areas that need more coverage, you can simply dab more on those spots.  It is non-comedogenic, waterproof, and contains sunscreen.  Since you use very little of the product, is will last you a long time, so it is very economical!
You can purchase the Dermablend line at United Beauty Supply store locations or at Ulta Beauty Supply (www.Ulta.com).
Karen Hall, Celebrity Makeup Artist

 

Karen Hall has dolled up the likes of Paula Abdul, Faith Hill, Conan and many more world-wide celebs that come to Phoenix to perform or make personal appearances.  Karen is called in to make the stars look amazing and many of these celebs end up asking Karen what her own personal secret is because she looks 30 years younger than her age…which she will tell you is over 60!  Hard to believe, isn't it?!   Stay tuned for another healthy and easy beauty tip from Karen next week.

 

Read more about Karen on our team bio page