Manic:  Dry skin on my face, hands and feet.
Managed:  Asked our managedmoms.com celebrity makeup artist Karen Hall to share her favorite moisturizing trick.  She couldn't wait to tell us her favorite remedy and absolute favorite oil.  Read on to see her answer!
Karen says:
Today's Beautiful Beauty Tip:  My all time favorite skin oil!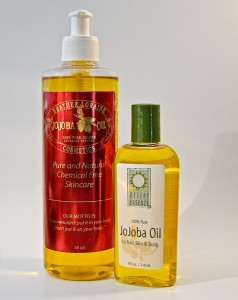 Whether your skin is oily, acne prone, or dry and parched, this beautiful oil will heal and normalize your skin!  Jojoba oil is actually a liquid wax that is very similar to our own skin's oil, and has a superior ability to penetrate the skin. 
If you have problem skin, it may seem odd to actually put oil on your skin, but I did just that many years ago, and have never used anything else since.  It will absorb completely, leaving no oily residue.  The skin is our largest organ, and can absorb what we put on it.  With that in mind, do we really want to slather chemically laden lotions all over us on a daily basis?  I have read labels on most of the lotions out there, and feel that there are natural alternatives that work much better.  Jojoba oil is one of them!
 

 

Karen Hall, Celebrity Makeup Artist

Karen Hall has dolled up the likes of Paula Abdul, Faith Hill, Conan and many more world-wide celebs that come to Phoenix to perform or make personal appearances.  Karen is called in to make the stars look amazing and many of these celebs end up asking Karen what her own personal secret is because she looks 30 years younger than her age…which she will tell you is over 60!  Hard to believe, isn't it?!   Stay tuned for another healthy and easy beauty tip from Karen next week.

Read more about Karen on our team bio page