Manic: 
All this back-to-school shopping and wondering what to skimp on and what items I should really invest in.
Managed:  Asked our newest managedmoms.com team member, teacher Lisa Walton her opinion and she told me that the one item we should consider spending a little more on is a good quality backpack.  Read on for her helpful and healthy tips for our kids and their backs!
Lisa says:
It's that time again…Back to school!  While you are out looking for school supply bargains, it's important to put some extra consideration into buying one important necessity…backpacks!
Backpacks that are too heavy or are worn incorrectly can cause problems for children and teens. Improperly used backpacks may injure muscles and joints. This can lead to severe back, neck, and shoulder pain, as well as posture problems.
Below are some basic tips for buying and packing a school backpack that can help your kids stay healthy.
You Get What You Pay For: Unfortunately, a $10-20 pack purchased at a drugstore isn't your best bet. Licensed gear (animated characters or rock stars) is not usually adequate.  A decent pack usually runs $24-40+ price range. Good brands to consider LL Bean, Lands End, and REI.
What you get for the extra money: Padded straps, padded backs, proper shapes. If the pack you're considering has padded, ergonomic straps (shaped for a kid's narrower shoulders) and a padded back section to protect your kid from their books, they'll wear them properly and their books won't dig into their spine or shoulder blades.
Two straps are better than one:  While your child might beg for this because it's what all the "cool kids" are carrying, avoid the sling-style backpack (or messenger bag), which has one strap that crosses the chest or allowing your child to only wear a two strap backpack with one strap only. According to local chiropractor, Dr. Marcy J. Dionisio, using or carrying a backpack with one strap, not two, puts all the pressure on one shoulder.  It pulls the shoulder down and can cause back, neck, and shoulder pain.  It is also responsible for the increased possibility of scoliosis.  Look for a backpack with two straps instead, which divides the weight of the backpack evenly across the shoulders.
Pack them properly:  Make sure you place the heaviest stuff in the bottom of the pack snugly against the child's back, and the lightest stuff on top, away from the child's back. That way, the pack sways less and moves with the child.  Also utilize the compartments in the pack; it makes it easier to do this.
Use the 15 percent formula: Most experts recommend that your child's pack weigh no more than 15 percent of their body weight. That means that an 80-pound 9-year-old should carry no more than 12 pounds. Make sure they only bring home what they need each day. Actually look in your child's pack once a week. You will likely find heavy, forgotten items like sporting gear or extra notebooks that can be removed. If it's still too heavy, see if it's possible to get one or two of their heaviest textbooks that can stay at home.
Chest or 'sternum' straps: Look for packs that have a secure strap across the chest that holds the shoulder straps together. This will help stabilize the load.
Follow the '4-inch' rule:  A backpack should not descend more than 4 inches below your child's waistline. Any lower, and a fully loaded pack will force the lower spine to arch backward uncomfortably. Consider child-size backpacks made by brands like REI and L.L. Bean.
Wheeled Backpacks: This is a great alternative to carrying heavy backpacks.  However, the drawback is that some schools consider the extendable handles on wheeled packs to be a tripping hazard and therefore don't allow them.  Be sure to check with your school before investing in one of these.
No Personalization:  While monograms are fine, don't put your child's name on their backpack for safety reasons!
Want it checked out??   Dr. Marcy J. Dionisio at Family Foothills Chiropractic (1241 E. Chandler Blvd. Phoenix, AZ 85048) will be offering Free Breakfast and Free Backpack checks on Saturday September 17th from 8:30-10:00 a.m.  No appointment necessary, just stop by.
About Lisa: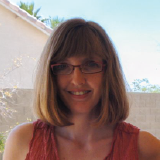 Lisa Walton–Parenting tips
Valley Teacher and Mother
Lisa Walton has been a teacher in the Valley for over 18 years. She holds a Bachelor's Degree in Deaf Education from Illinois State University; and Master's Degree in Special Education from Arizona State University. She currently works as an itinerant teacher, collaborating with regular education teachers in the public schools.
Read more about Lisa on our team bio page