Manic:  I'm noticing in my 40's that I no longer need monthly eyebrow waxing.  My brows are thinning out (wish my hips would do that!), so how do I handle this new physical change?
Managed:  Asked Celebrity Makeup Artist Karen Hall what she recommends for brows and I love her answer!
Karen says:
I have been using the same eyebrow pencil on myself and on my clients for over 25 years.  Your eyebrows frame your eyes the same way your hair frames your face.  It is always the first thing I notice on women, when their brows are poorly shaped.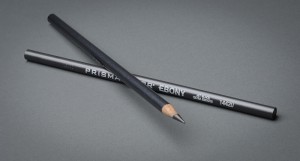 The pencil is actually a drawing pencil (available at art supply stores) by prisma, called ebony 14420.  Because it is a drawing pencil, you sharpen it in a regular pencil sharpener to a very sharp point.  It makes little hair like lines, that really look like your own brow hair and fills in exactly where you need them, to give your brows that perfect shape.  Strangely enough, it works well with all brow colors!  Even if you have blonde brows, the pencil will give you a little depth, and you can always add a bit of shadow after, if you want to tweak the color a bit.
You can actually make a brow where there isn't much of one.  I hear the stories of how you plucked only one time and they never grew back, or how as you get older, the end of your brows have just disappeared!  Well, this can be your magic pencil!  Another plus, besides the fact that it costs under $1, is that it will last you for years!
Karen Hall, Celebrity Makeup Artist

Karen Hall has dolled up the likes of Paula Abdul, Faith Hill, Conan and many more world-wide celebs that come to Phoenix to perform or make personal appearances.  Karen is called in to make the stars look amazing and many of these celebs end up asking Karen what her own personal secret is because she looks 30 years younger than her age…which she will tell you is over 60!  Hard to believe, isn't it?!   Stay tuned for another healthy and easy beauty tip from Karen next week.

Read more about Karen on our team bio page