Roman's partner poses have been so interesting to see and learn about!  Have any of you tried any of these poses?  Today is his last partner pose for a while.  He will get back to individual yoga poses next week and we can also look forward to Roman showing us some additional fitness tips in strength training and other exercise areas as well.  I can't wait!  So here is this week's recommended yoga pose and if you have a fitness buddy, give this a try!
Roman says:
Pose: Opening forward fold/back bend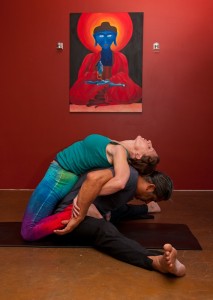 Benefits:
*Hamstring stretch
*Lower back release
*Hip opener
*Stretches and opens the chest and shoulders
*Quadriceps stretch
Pose:
1.  Base sits tall with legs wide flexing the feet. Flyer kneels back to back with Base and places tops of feet on Base's thighs while linking elbows.
2. Both inhale, and on exhale, Base hinges forward from hips lifting flyer. Flyer and Base relax head and neck as both
inhale and exhale together for three breaths.
3.  Switch roles.
Contraindications and Cautions:
Back injury
Shoulder injury
Knee injury
What is your favorite yoga pose that you recommend?  Share it here in the comments section and have a happy and fit week!
About Roman Acevedo,  Yoga Instructor: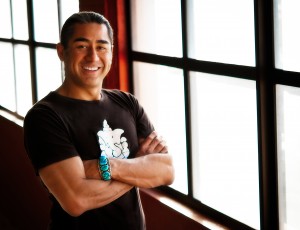 Learn Roman's yoga poses for more flexibility and fitness and less stress. 
Roman has practiced yoga for 11 years to increase flexibility, build strength and invite meditation into his busy daily life and rigorous work schedule. He finds yoga to be beneficial in restoring peace in any stressful environment and continues his studies with Scott Page, David Miliotis and local instructors throughout the valley. Part of his dharma yoga practice is giving, which he does through his Ra-Yoga studio that gives free yoga/aerial yoga, and through ra-Apparel, his fashion house with an uncompromising buy-one, give-one program clothing under-served children in the community. Made in Downtown Phoenix AZ.  He enjoys hiking in the mountains with his dog, Raja and photographing his environment.
For more information visit:
Read more about Roman on our team bio page.