Who is our Freebie Friday winner today?  What did she win?  What is next week's cool prize?  Keep on reading!!  And remember if you are a subscriber, then you are automatically entered in our weekly drawing for great prizes that include beauty items, cookware, jewelry and more!  Lots of cool stuff!  Now, let's announce this week's lucky winner….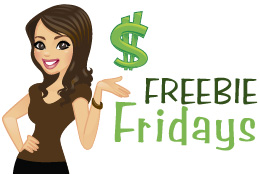 This week's Freebie Friday winner is:
Chris Stall from Phoenix, Arizona!!
(winner selected through random.org)
Chris won: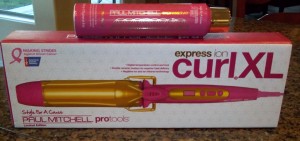 A Limited Edition Express Ion Curl XL Style for a Cause Paul Mitchell Curling Iron –This pretty pink curling iron has an extra-large 1 ½" aluminum barrel that heats up to 400°F and features the Paul Mitchell Express Ion Complex—a blend of silicone and ceramics—to heat hair quickly and gently from the inside out for lush, frizz-free curls.  And this is one curling wand that is making a difference because a portion of the proceeds from this iron benefits the American Cancer Society in their continued effort to fight cancer and save lives.
Chris also won Paul Mitchell Hot Off The Press Thermal Protection Spray – This Style for a Cause beauty aid builds a weightless barrier between fragile strands of hair and hot tools.  It is multi-purpose resists humidity and shields hair from damage while also providing flexible hold for styling.  Proceeds also benefits American Cancer Society.
Congratulations Chris and thanks so much for subscribing to managedmoms.com!
So, what is next week's prize??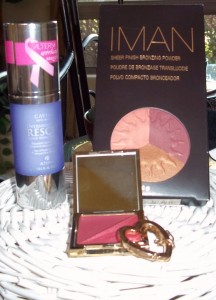 Some awesome beauty products that all have given back to BCA Month, so these are products that made a difference in October, too!  Next week's winner gets:
*Jane Iredale Roses & Lollipops Lip Duo – 100% of proceeds from the sales on the new Roses & Lollipops lip duo to went to Living Beyond Breast Cancer, a national nonprofit organization dedicated to empowering all women affected by breast cancer. This lip duo features two new and universally flattering shades housed in a petite, portable key chain locket. The locket features two best-selling products in two new shades: PureMoist LipColour (in Roses) – a pigment-rich, creamy lipstick that hydrates and soothes the lips with jojoba and grape seed extract; and PureGloss for Lips (in Lollipops) – a sheer, petroleum-free gloss made
*Iman Cosmetics Afterglow Sheer Finish Bronzing Powder — Iman Cosmetics promoted their Afterglow Sheer Finish Bronzing Powder during BCA month. IMAN donated $1 for every IMAN Afterglow Sheer Bronzing Powder purchased during the month of October. These proceeds went to The Intercultural Cancer Council (ICC) which promotes policies, programs, and research to eliminate the unequal burden of all cancers, including breast cancer, among racial and ethnic minorities and medically under served populations in the US. This is an organization IMAN Cosmetics consumers can relate to and aligns perfectly with IMAN Cosmetics commitment to multicultural women.  with green tea leaf extract.
*Alterna Caviar Overnight Hair Rescue — In support of Breast Cancer Awareness Month, Alterna launched a special-edition Caviar Overnight Hair Rescue in a 1oz. travel size and donated 5% of net proceeds from every bottle sold to the National Breast Cancer Foundation. Ideal for those with damaged or color-treated hair in need of repair or a luxurious nighttime reparative treatment.
So next week's beauty prize package are products that are top quality and made a difference in October.  A win win for everyone!
 Good luck everyone!
HOW TO ENTER NEXT WEEK'S FREEBIE FRIDAY…
Do you want a chance to be in the Freebie Friday drawing for next week?  If you are a subscriber, you are automatically entered!
If you are not a subscriber, subscribe now at www.managedmoms.com.  Simply subscribe to the website by filling out the area in the right hand column that says "subscribe to managedmoms.com."  Being a subscriber means that you simply get a notification email each time we run a recipe, article, beauty tip, coupon and more.  We don't share your email address with anyone and you are automatically entered into the weekly Freebie Friday drawing for your chance to win a cool prize every Friday.  It is that easy!
To enter without subscribing, simply fill out an entry form at:  https://managedmoms.com/freebie-friday-entry-page/