Manic:  Finding the time to get all done up for holiday celebrations during the busy holiday season.
Managed:  Adding fake eyelashes can add a lot with very little time and effort once you learn a few tricks, so celebrity and professional makeup artist, Karen Hall shares a few tips on how to apply those fabulous fake lashes.  Thanks Karen!
Karen says: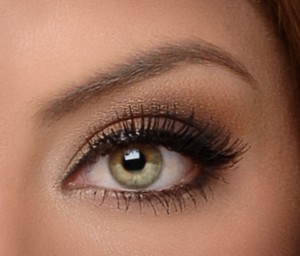 The holidays are here ladies, so why not add a little something extra to your makeup to really doll up for all the festivities!  It is amazing the difference even a few added eyelashes can make, and with a little practice, you will be able to apply them with ease!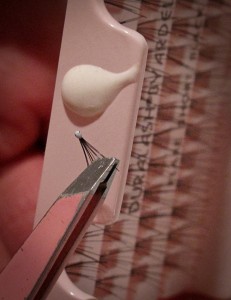 I recommend either the individual lashes that have a few hairs per lash, or cutting a full set to a very manageable length.  If you choose the individuals, put a dot of glue on the card.  Gently remove a lash with tweezers, and dip it in the glue.  I like Duo Eyelash Adhesive in clear.  It is white going on, so you can see it, but dries clear.  Look down into a mirror (a magnifying mirror is great, especially if you wear glasses), and place the lash as close to the base of your lashes as possible, aiming for between them, especially if you have spaces to fill.  Start with just a few on the outer corners of the eye until you get the hang of it.  That alone can make a huge difference.
If you want to reuse lashes, I would trim down a full set….not only are they easier to apply, it will save you money, as well!   Just take the glue off after removing them (it will pull off easily) and place them back in the case.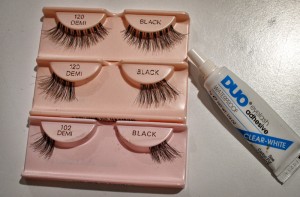 Make sure to do your makeup and mascara before you apply the lashes.  The mascara gives it a nice base for the lashes to adhere to.  After a few times, it will go so quickly that you may want to use them daily!  You will be amazed at what a difference those added lashes can make!
Karen Hall, Celebrity Makeup Artist

Karen Hall has dolled up the likes of Paula Abdul, Faith Hill, Conan and many more world-wide celebs that come to Phoenix to perform or make personal appearances.  Karen is called in to make the stars look amazing and many of these celebs end up asking Karen what her own personal secret is because she looks 30 years younger than her age…which she will tell you is over 60!  Hard to believe, isn't it?!   Stay tuned for another healthy and easy beauty tip from Karen next week.

Read more about Karen on our team bio page