Manic:  Finding myself spending all day cleaning and organizing, as we approach the New Year.
Managed:  Stopped cleaning and made time tonight to take my 10-year-old daughter to see the new movie "We Bought A Zoo" (www.weboughtazoo.com) and here is our review of the film….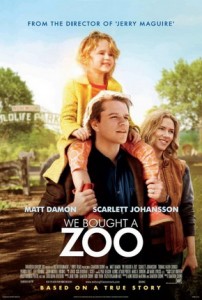 Rated PG, I found this film to be a little bit deeper than I expected since it dealt with how a family copes with the death of a wife and mother from cancer.  I liked that Matt Damon's character took his time to work through the grieving process, both his own, and the pain his children deal with in the story. 
I was also instantly attracted to this film because it is based on a true story and I dig that kind of film.  At the end of the movie, viewers are given an update on the real-life family that the film is based on and both my daughter and I enjoyed seeing that with the credits. 
The all-star cast was enjoyable to watch in their roles.  Matt Damon, Scarlett Johansson and Thomas Haden Church are all favorites of mine and the child actors were truly top notch, too.  Plus the movie is directed by Cameron Crowe and I'm also a fan of his work (Jerry Maguire). 
The story is about how a recently widowed father decides to start a fresh new chapter with his two children with the purchase of a new home that is part of a zoo.  As they take on this challenge, they deal with each other's pain through conflict followed by teamwork and the eventual embrace of their new adventure.  The goal is to work hard with the zoo's staff to fix up the dilapidated property so that the animals will be saved and the public can once again enjoy the beautiful grounds that house so many gorgeous animals.  It is through this adventure that the heartbroken family comes together with the zoo's interesting cast of characters, who make up the staff, to reopen the animal park, while showing kindness and respect to the animals inhabitants.  I loved this part of the film's message.
Although the movie's poster looks appealing to small children, I felt like my 10-year-old was just barely old enough to understand the scenes that deal with sorrow, loss and sadness.  There is also a powerful scene between father and son that shows a heated argument that ends up being a healing experience, but small children may not understand the yelling and exchanges that occur between the two characters.  Several inappropriate words are also included in the dialogue, including an offensive word spoken by the 7-year-old daughter's character. 
And be warned if your kids still believe in the Easter Bunny!  This movie should perhaps have a PG-13 rating, although my 10-year-old truly enjoyed it and followed the positive messages with great interest.  She just told me to tell folks that this movie "is not for 3-year-olds" so she gets it, too!
A complete list of plot situations, profanity and more can be found at kids-in-mind.com (http://www.kids-in-mind.com/w/weboughtazoo.htm). 
Having said all of that, I did like the film.  We were both taken with the beauty of the animals in the movie.  There is a real deep respect shown to creatures of all kinds in the film and the cinema experience truly captures the beauty of each animal.  I thoroughly enjoyed the animal zoo scenes.
If you are sentimental like me, be prepared to tear up more than once.  Even if you have seen this sort of plot before, Matt Damon embraces his character with honesty and passion and I was touched by his performance, that made me both laugh and cry. 
So, in my opinion I am sold on "We Bought A Zoo" for kids 10 and older.  However, do visit kids-in-mind.com (http://www.kids-in-mind.com/w/weboughtazoo.htm) to help you to make your own decision on whether or not this film is appropriate for your children. 
In sum, this film shows how one family deals with the grieving process with the help and support of family and friends.  The value of teamwork is also highlighted when the new zoo owners meet and work with the zoo's staff.  And the story captures the beauty of the zoo's animals and how these creatures deserve to be treated with respect.  Truly, the beauty of animals and humans come alive in this movie.  I left touched and satisfied with how the story resonated with me and with my girl.
And whether or not you are seeing a film or going dancing, be careful out there.  Have a happy and safe New Years Eve everyone!
Happy New Year!
Did you see "We Bought A Zoo" yet?  If so, share your opinions and comments here in the comments section!