Manic:  This last weekend was manic, but so wonderful with my daughter performing in three Christmas Carol shows, my son's hockey game, my girl's 3-hour dress rehearsal for another performance she is in this holiday season and a wonderful visit with my kids' amazing grandparents who came to see the shows and the hockey!  Whew…exciting and wonderful!  Now how do I get caught up this week with wrapping, shipping and more, while remembering to pace myself as we head into another busy weekend of performances?!
Managed:  The answer is yoga!  And thanks to managedmoms.com yoga expert, Roman, who has a great pose to start our week off.   This pose stretches the shoulders and opens the chest, which helps to release the stress and tension that so many of us hold in our shoulders.  Do you ever wear your shoulders for earrings?  I do!  So do this pose with me, breathe and relax and try to enjoy the crazy hustle and bustle of the holiday season!
Roman says:
Dandasana : Staff Pose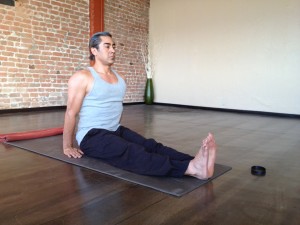 Benefits:
Strengthens back muscles
Stretches the shoulders and opens chest
Improves posture
Pose:
1.  From a seated position on the floor with legs together and extended out in front, activate your thighs (pressing down into the ground ) and feet (flexing your ankles pressing through the heels).
2.  Draw shoulders back and down as you bring your hands beside your hips, straightening into your arms and pressing into the floor.
3.  Hold for 5 breaths repeating 2-3 times.
Contraindications and Cautions:
Any wrist or lower back injury
About Roman: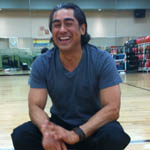 About Roman Acevedo, Yoga Instructor
Roman began practicing yoga in 2000 to complement his rigorous workout and hectic work schedule. Leading to increased strength, concentration and flexibility, he found yoga far more beneficial in restoring peace in any stressful environment. Studying under Andrew Eppler and local instructors Dave Oliver, Cheryl Oliver and John Salisbury, Roman is currently working towards the 500 hour advanced Yoga Instructor training.
Read more about Roman on our team bio page.