Manic:  My kids were manic and antsy about the last day of winter break, so they told me that they wanted to do "one more fun thing" before heading back to school!
Managed:  I told them that if they worked hard in the morning taking down holiday decorations, doing chores and helping me with the many items that were on the to-do list, then we could do one more fun thing, of their choosing, within reason.  My plan worked, we got a lot done and then headed out for our last winter break day of fun!  They chose ice skating in the new downtown Phoenix CityScape area.  Here is our review of the outdoor ice rink:
Just One Week Left to Ice Skate Outdoors!  Here are the details…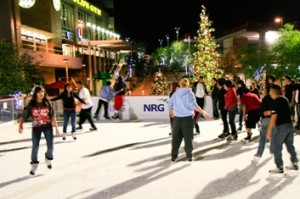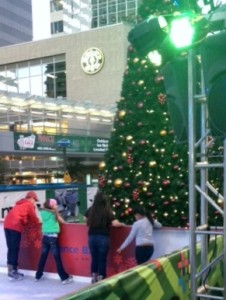 The rink backs up to a grand holiday tree and includes a bright display of holiday lights and ornaments.  As you can see, my kids and others, enjoyed taking a skate break by the tree!
The cost to skate is $10 and skaters can either bring their own skates or rent them. 
Do take note, that the organization only rents hockey skates and I heard several folks complain about the skates.  My daughter was challenged with these skates at first, but she soon adjusted and had a blast skating with her big brother, who happened to bring his own hockey skates.
The rink will operate through Jan. 11th.  Hours are Monday through Friday, 5pm to 11pm -Saturday and Sunday, 3pm to 11pm. 
The rink, located in downtown Phoenix between Central and First Avenue in Patriots Square, is made of real ice and it holds approximately 100 skaters!  The operator of CityScape has announced that the rink will be an annual tradition at the new development in Phoenix.  That is cool!
Parking is available in the underground parking lot that is housed at CityScape.
Although the rink became increasingly crowded as the night progressed, my kids loved it!  Very fun and my son found it quite amusing to be skating in 80 degree weather!  You gotta love living in the desert!