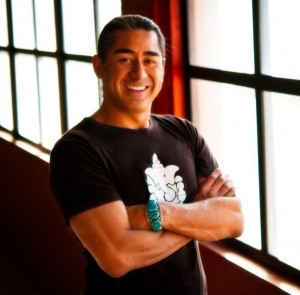 First let me begin by thanking managedmoms.com writer, Roman Acevedo, for his healthy and fun weekly yoga poses.  He faithfully sends me a post every week and his passion and enthusiasm for his recommended exercises comes through beautifully in every post. 
Now he is switching to weekly videos, which is great for us, because seeing a video makes following the pose that much easier, I think!  We will show his first video pose next week, but first…his big news!!
Roman has opened up a beautiful new state-of-the-art yoga studio in downtown Phoenix called Ra Yoga (http://ra-yoga.com/) and get this….it is free, if you can believe that!  Here is little bit about Roman's new yoga studio that I copied from his website….
 Welcome to Ra! We're more than a yoga studio. we're also a library for personal development, a social gathering place, and a beautiful space to host yoga and community-related events. And it's free. For everyone!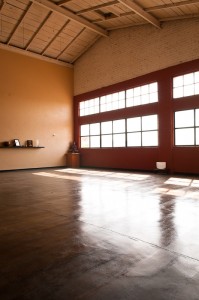 The purpose of Ra Yoga is purely to serve Phoenix area yoga practitioners and teachers. Our vision is to unite our local community and raise the collective vibration of all who choose to participate. Students will be offered exceptional education at no cost. Teachers can plant their karmic seeds and freely promote their other classes and studios to a broad audience.
The option to suggest a donation will be open to teachers so they may use their classes and workshops to offset the cost of their own training and benefit the charities and causes of their choice.

By eliminating the need to make a profit,  Ra Yoga is able to make yoga accessible to everyone regardless of their financial means and eliminate competition with other studios. In fact, we want to promote their success. We believe that supporting the growth and education of our entire local yoga culture benefits us all. Every studio is welcome to offer and promote their services to every Ra student. Every yoga teacher is welcome to promote the classes and workshops they teach at other studios.  It's yoga minus the competition, plus teaching driven purely by passion.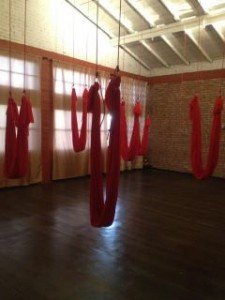 You might also be interested to know about our location. We currently occupy approximately 10,000 square feet of space in an industrial building in downtown Phoenix, with plenty of room to expand. We are about a block away from the US Airways Arena and Phoenix's newest highlight, Cityscape. We are across the street from Cooper'stown and right next door to the Foundry, an exciting new music venue.
Our yoga studio is 800 square feet of newly renovated urban space. One wall is made up largely of a huge bank of windows that frame the twinkling city lights at night. The lofty ceiling provides us with the perfect setting to suspend silk yoga hammocks. A projector and retractable screen offer students (and teachers) the opportunity to participate in streamed yoga classes taught anywhere in the world while taking advantage of adjustments offered by an attentive teacher in the classroom.
How cool is this?!  I'm so excited to go and see his new studio!  I haven't been there yet, but I plan to visit very soon!  Congratulations to Roman and to his Ra Yoga team and thank you for providing such a warm and wonderful place to our community!
Stay tuned for next week when Roman shows us some super cool video on how to use the innovative yoga hammock.  I can't wait for that!  In the meantime, have a happy and healthy week!
And to learn more about Ra Yoga and the amazing community work they are doing to help the less fortuante, visit the website at http://ra-yoga.com/.
About Roman: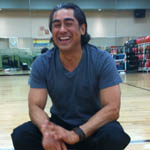 About Roman Acevedo, Yoga Instructor
Roman began practicing yoga in 2000 to complement his rigorous workout and hectic work schedule. Leading to increased strength, concentration and flexibility, he found yoga far more beneficial in restoring peace in any stressful environment. Studying under Andrew Eppler and local instructors Dave Oliver, Cheryl Oliver and John Salisbury, Roman is currently working towards the 500 hour advanced Yoga Instructor training.
Read more about Roman on our team bio page.