Manic:  Trying to get my entire family to be more organized now that we are in a New Year!
Managed:  My friend and decorating guru, Bridget has been doing the same thing and she decided to start off her new year with a special space that she created just for her!  A cozy cave for all of us manic managed moms out there!  And most of us don't have the extra room to do so, as is Bridget's case, so here is how she did it, on a dime and with limited space.  You will love her ideas!
Bridget says:
I wanted my own office for my scrap booking and other Mom activites that I enjoy doing.  But I don't have an extra room to make my own woman cave, so I started to brainstorm on how I could use our guest room as a place that can also function as my own personal office work space.  And I like what I came up with!
First I measured my space to make sure that a desk would fit and to see if I would still be able to use this room as a spare room for company.  Next I ordered this desk from Amazon, and it was marked down to $129.00 from $199.00 with no shipping charges!  I received it within four days and it was packaged very carefully.  This impressed me because this desk has tons of very heavy thick glass and weighs over 40lbs.  Good job, Amazon!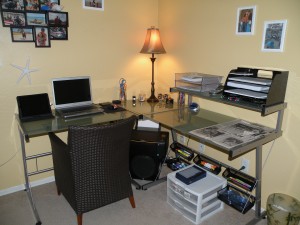 Here is the after picture! 
I put it together myself and it only took me about 30 minutes because the assembly was very easy thanks to the well written instructions.  I chose this desk for many reasons.   I didn't want anything that was wood and I didn't want anything that had drawers.  Drawers tempt us to put junk in them and the whole idea is to get away from clutter, so I passed on the desks with drawers.  So this desk forces me to be organized, which is exactly what I want to be in this new year.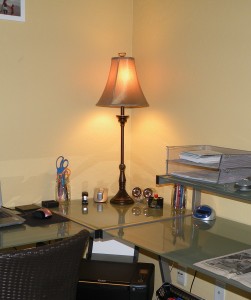 Next, I added my lamp that I already had in this room, so that was a money-saver.  I used mason jars to put scissors and pens in and that was a thrifty idea, too!  I bought small baskets  ($3.29 for set of 3) that I  hooked on the bottom part of desk with zip ties to hold markers, highlighters, tape, glue sticks and other craft supplies.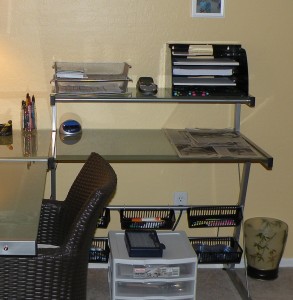 I also bought a paper organizer and 3-drawer organizer for $1.99 and $4.99.  Interesting enough, the organizers that I wanted were $29.99 at a local office supply store and I felt that was too much for these products.  So when my youngest daughter wanted to go to Goodwill to buy some books (she heard about this from a school friend), I left the office supply store on a mission to find some nice organizing shelves and bins. So off we went to our local Goodwill Store.  While my daughter checked out the books, I decided to check out home decor.  And I was wowed!  There was that same organizer for $1.99 (tags still on it) that I wanted at the office supply store for $28 less!  I was very happy and glad that I came to the local Goodwill store. 
I guess that saying,"another persons junk is another persons treasure" is very true!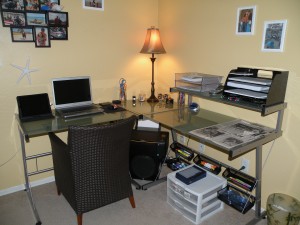 I absolutely love my new work space!  I needed my own room for scrapbooking, developing pictures, emails, memory books and school projects that I work on with the kids. I have all the space I need without buying  a big desk and file cabinets, which is a real space saver. I now have two rooms in one. It is very organized and holds everything I need.  So don't think that just because you don't have an extra room or extra money that you can't have a space just for YOU and your hobbies.  Moms deserve a little space, don't you agree?  And I designed this office work space for around $175.00.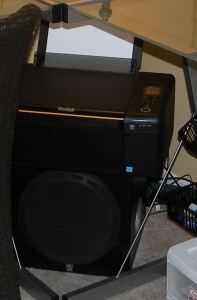 I already had my laptop, Ipad, shredder and my scanner/printer/copy machine.  And my new Kodak scanner came from Walmart and was marked down to $59!   This is the best scanner/printer/copier I have ever owned. My other one, which is HP in my main office of my house, was over $200.  That one does not have as many options and the printer cartridges are very expensive and don't last long, either.  My new Kodak one is light weight, easy to use and has numerous options, plus the printer cartridges sell for about $30 for the set of black and color.  A much better value, indeed!  Happy Organizing!