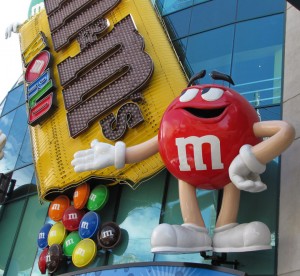 Manic:  Our annual hockey tourney that takes place in Las Vegas right on the heels of the end of the holiday season.
Managed:  If you have to take your family to Vegas, there are some family-friendly activities that are appropriate, but be warned that your kids may see some PG-13 and even some R-rated characters around the strip.  Unfortunately, that is hard to avoid.
Seeing Mickey Mouse with a liquor bottle in broad daylight was bothersome and we looked the other way, but it was hard to shake that sad image out of our minds.  Since I have a teen and a tween, the intoxicated Mickey didn't bother them that much, but I'm sure that could really affect little ones!  So if you must go to Vegas with little ones, proceed with caution.  For my older kids, we found some super cool stuff to do while we were in town for the hockey tourney….which was great fun, as it always is!
Here are our family-friendly Vegas suggestions:
*Cirque du Soleil shows  — If you haven't seen one of these amazing shows, put it on your bucket list.  Since we travel to Vegas annually for my son's tournament, we have now seen two of these shows.  The music, dancing and unbelievable gymnastics that are incorporated into the show will take your breath away!  You will leave believing that these performers are super-human!  We have seen KÀ by Cirque du Soleil at the MGM Grand and "O" by Cirque du Soleil ( http://www.cirquedusoleil.com/en/shows/o/default.aspx) located at the Bellagio and both are phenomenal.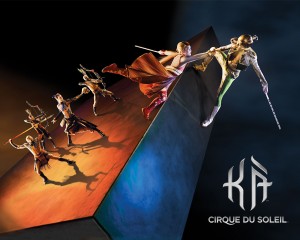 My daughter loves KÀ because the production entertains while telling a story.  For information and tickets visit http://www.mgmgrand.com/entertainment/ka-cirque-du-soleil-show.aspx.
LE RÊVE at the Wynn: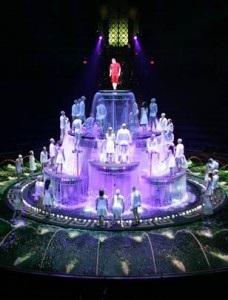 LE RÊVE was incredible to view because the dancing is incorporated with acrobatic tricks that are performed in water in theater-in-the-round seats that gives everyone attending a terrific view.  Unbelievable high dives are also part of the show, which my kids found to be very exciting.
Both of my children thoroughly enjoy these shows and leave inspired to take better care of their bodies since each perfectly-toned performer reminds us that a healthy body is a strong body.  For more information about the show we saw this time, LE RÊVE, visit http://boxoffice.wynnlasvegas.com/shows_info.html.
*M&M's World – If your family likes M&M candies as much as mine does, then you will enjoy M&M World located right on the strip.  Not only can you shop for all kinds of M&M memorabilia, but you can also custom-design your own M&M candies with any color and font that you want to appear on your candy.  For more details on this fun candy factory, visit http://www.mymms.com/merchandise/locations.aspx.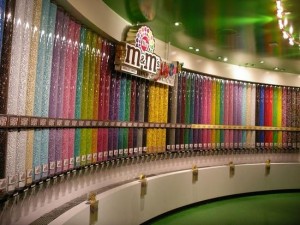 *Shark Reef Aquarium at Mandalay Bay —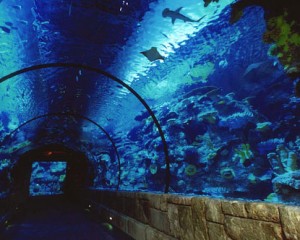 All kinds of sea life including a wide variety of sharks, sea turtles, jellyfish and more can be seen swimming right over your head in this super cool gigantic aquarium that our entire family enjoyed.  Over 2,000 animals are housed here, making this a must-see spot for families visiting Las Vegas.  http://www.mandalaybay.com/entertainment/shark-reef-aquarium.aspx.
*Madame Tussauds Las Vegas Wax Museum in the Venetian — We got a kick out of this place because the lifelike wax creations included celebrities for me and my daughter to view and famous athletes that my son enjoyed seeing.  Political figures like Abraham Lincoln and MLK are also on display and each figure includes a historic description, which I found to be interesting.   Plus you are allowed to photograph yourself standing next to the over 100 life-like celebrities.  My kids thought taking the pictures with the wax figures was quite fun.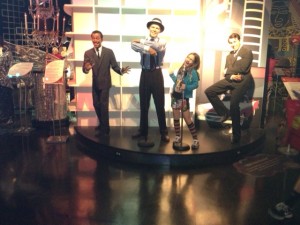 Even though my daughter doesn't know who the Rat Pack was, she still had fun posing with the likes of Sammy Davis Jr., Dean Martin and ol' blue eyes, Frank Sinatra as you can see in this picture!  Current celebs also include Lady Gaga, Simon Cowell and Bradley Cooper, in addition to many others.  http://www.madametussauds.com/LasVegas/.
So if you find your family in Vegas for a sports tourney or some other event, there are a lot of fun activities for the kiddos, but keep your kids close to you at all times, because Vegas isn't called Sin City for nothing!