For my subscribers that live out of Ahwatukee or out-of-state and didn't see the link on our managedmoms.com Facebook page, our website received a great write-up last Friday.  Ahwatukee Foothills Newspaper reporter Allison Hurtado did a very nice job writing about our website and our upcoming 1-year anniversary.  Our managedmoms.com team was very excited when this came out last week!  Take a look…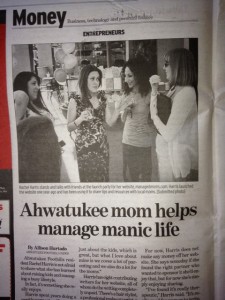 And click this link to read the article:
http://www.ahwatukee.com/money/article_bb58b0a6-4f67-11e1-8a31-0019bb2963f4.html
I just wanted to share and to thank you all for subscribing to managedmoms.com.  We will have some fun stuff to share next month to celebrate our first year anniversary.  Stay tuned!