Like many of us who have experienced the painful process of saying goodbye to our furry family member, Jodie held her sweet dog last week as he was put to sleep to end his suffering.  At 15 years old, his quality of life was all but gone and Jodie had to make that incredibly painful decision to let him go.  Thankfully, Jodie tells me that his passing was peaceful.
"Dr. Bennet at Blue Cross Veterinary in Phoenix was so compassionate, and gentle with my Mickey.  She gave him a sedative first to relax him, and a treat.  Then, we held his head and kissed his nose while she gave him the shot to stop his heart.  After we spent a few minutes saying good bye to him, they made a paw print in a little ceramic disc with his name and hearts underneath.  I baked it when I got home, and plan to paint it black and white, like his fur.  They were awesome, and I highly recommend them to any pet owner," said Jodie.
Once I read this, I was in tears and I just knew that I had to honor Jodie's request and write an article about her sweet Mickey.  And Jodie sent me some fun pictures of Mickey's life to include, too!  But first, to all of you that have been in Jodie's shoes, you know firsthand how painful it is to lose a pet and it is truly a loss felt forever.
I remember coming home after our beloved cat, Zilker died in surgery at 15 years old.  I couldn't get over how empty the house felt without her.  She was like a little dog that even did tricks like sitting and shaking paws and we had her before our children were born.  She moved with us, comforted us in hard times and purred in our lap during the joyful days.  Most importantly she gave us unconditional love and we loved every inch of her right back, so I can once again (5 years later for me now!) feel Jodie's grief in my own bones.
But aren't those years of smiles, laughs, comforts and even a few challenges worth it?  And although the tears flow one minute and I found myself choking back more tears the next, I knew that the pain of loss is the result of how much I loved that cat and I would have rather loved that much than to not have had that love at all, so I took the pain and I let myself feel it, as I endured the process of letting her go.
Several months later, I adopted two new cats from my local animal shelter.  They have been great companions, but they can't replace Zilker and that is OK.  Those two kitties remind me of the beauty of the circle of life and they are happily thriving in our home now.  And if you need to take a few months to heal before you adopt a new pet, do it….or if you feel that you want to look at rescues or puppies or kittens the next day, then do that…just follow your heart.
And now back to marvelous Mickey!  With these pictures from Jodie, let's celebrate sweet Mickey's life now!  Just look at what a special dog he truly was!  And Jodie tells me that Jack Russel Terriers are simply amazing dogs to have, so check out a terrific rescue organization called AZ Jack Russell Rescue.
And here is something that is pretty cool….Mickey's human Dad, Dan who adopted Mickey as a pup is dealing with the loss in a very special way, too….through a tribute that he wrote all about Mickey in an article that the LA Times is even considering publishing!  To see's Dan's heart-warming tribute that appears in the Noozhawk Newspaper in Santa Barbara, check out the link that appears below this article.  Dan's wonderful words take you through the years from the first day that Mickey came home with Dan as a new pup through his adult dog years.  You will love his article and it will put a big smile on your face, just like the smiles that Mickey put on Jodie's face as he graced her life with his perfect pup presence.  To all of you that have loved and lost a pet and to Jodie, my heart goes out to you because Mickey took a piece of Jodie's heart with him to the wonderful and peaceful place where he now resides…and a piece of him will always reside in Jodie and Dan's hearts.  Today we honor you, sweet Mickey.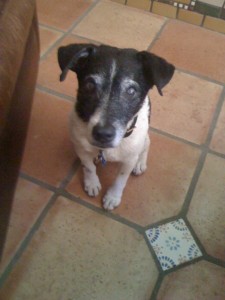 Dan's newspaper link that you have to check out…
http://www.noozhawk.com/article/032012_daniel_petry/