Manic:  After surviving the flu and then my husband's bout with the flu, one week later, my daughter gets the flu, too!
Managed:  Doing what I have to do.  Canceling all kinds of stuff and juggling other items to take good care of my girl.  And on her first day back to school today, look what I found in my bathroom….
The letter says:
Dear Mom,
Thank you so much for what you have done for me.  I wouldn't be were (she meant to say where) I am today if it wer't (weren't) for your sweet and kindness.  And I know that Jack will end the same way.
Love,
Lexi
P.S. Good luck with Jack, I know you'll nail it but if you need me I'll be there. 
She made sure that I didn't find this until she was back at school today!  And when I did, my heart melted, I smiled and remembered that all of life's trials are part of the journey and how blessed I am to be sharing this journey with this terrific little girl who is growing so fast, right before my very eyes!
And she mentions big brother, Jack because he is the last one standing and is the only family member who didn't get this flu!  So we are all saying a little prayer that he continues on flu-free!
I had to share this amazing Mother's Day gift that came early to me today.  When I saw the top of this flower pot…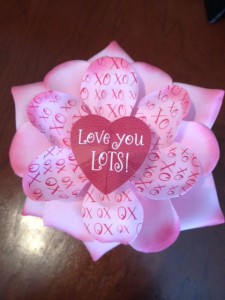 ….I just had to share the love!!