Manic:  Another crazy busy weekend with a dress rehearsal, two hockey games, getting ready to teach Sunday School and more!
Managed:  Finding time to enjoy our pets!  Check out this cute picture that I snapped of our boys.  And tell me, do you think Tucker is telling Stan a secret or giving him a kiss?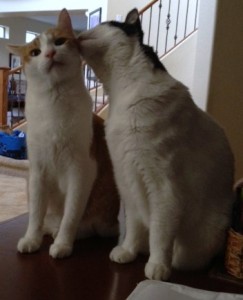 Send us your pet pictures!  We love to get them and share them every weekend.  We are big believers that our pets help to de-stress us!  Send your pet pics to [email protected]  Have a great Sunday!