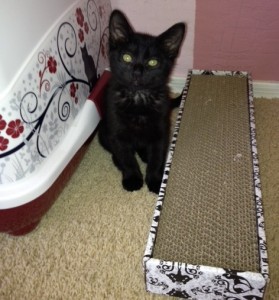 We have had sweet little Lucy for one week now and she is a doll!  She is such a good, loving and playful kitty who has fit into our home perfectly!  And when our daughter discovered that we had adopted the rescue kitten that we had been back to visit several times the week before, her reaction was priceless!  I think she will always remember this afternoon fondly.  Take a look at the video I shot of the surprise…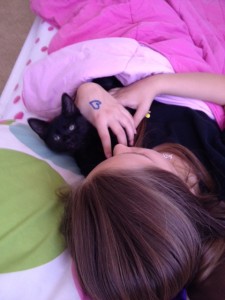 Adopting Lucy from our local Petco, that works with local shelters to save animals, was a great experience.  Our Lucy came with her age-appropriate shots, she was fixed and even has a microchip with her ID.  And we received a certificate that gave Lucy her first vet appointment with us for free!  And our vet was one of the covered veterinarians!  And we also received one month of free pet insurance.
Lucy has been a gem and has gone right to her litter with not one accident.  I highly recommend adopting a homeless pet.  There was an article in our newspaper two weeks ago stating that there is an overflow of kittens this spring and summer.  And not only did we save one kitty, but taking Lucy opened up space for another kitty to be adopted through Petco, so two friendly felines can be saved.
Enjoy your weekend with your pets and if you have recently adopted or are considering giving a sweet dog or cat a home, tell us about it in the comments section and send us a picture of your new pet to [email protected]!