Manic:  Actually a fun kind of manic….sort of an organized and exciting chaos all around me at the RA Organic Apparel fashion look book shoot!
Managed:  RA Organic Apparel boss man, Roman Acevedo and his wonderful team, were all working together to put together a look book to showcase the fabulous fashions that are coming soon.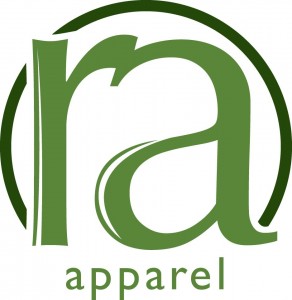 And Roman and his folks also work daily to sew together beautiful clothing for kids in need in addition to the fun fashions they create for men, women and children!  So when Roman invited me and my daughter to be models for a day, we readily accepted!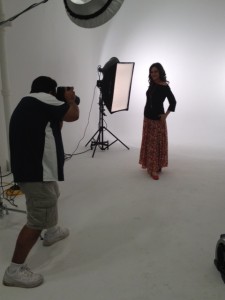 As you can see in the behind-the-scenes shots, my daughter fit right in!  But me, well, let's just say that you could tell that I was someone's mother and not a real model, but I held my own for a middle-aged gal surrounded by young beauties!  And that was OK because I had a blast and I figured that Roman and his team needed at least one real world Mama figure in the look book pages, so I was thrilled that he invited me to take part in the fun!  Steve with Trudge Photo was an excellent photographer and made all of us feel relaxed.  It was fun!  Plus RA Apparel just launched and they have already given so much back to the community.
I interviewed Roman and he told me that his company's employees are trained to create and sew the fashions by first learning how to make children's clothing.  Once they master that, they go on to make the other lines.  The children's clothing is then bundled up in a weeks' worth at a time and delivered to children in need at no cost to them.  RA Apparel works with a wonderful charitable organization called UMOM to clothe kids who are in need.
RA Apparel is also green and good for downtown Phoenix.  The company is set up in an old downtown Phoenix warehouse that Roman has remodeled to help maintain the city's downtown growth.  Environmentally friendly, RA Apparel uses all extra materials to produce clothing for the company's ragives children's program.
Plus Roman's philosophy is to create local jobs and to source from US suppliers only.  He regulary employs those in need and gives them the skills required to be successful with a company that continues to pay it forward.
Free community yoga is also offered through Roman's other business called RA Yoga and his team has spent numerous Saturday mornings camped out in the streets feeding homeless families.
And stay tuned for the opening of RA Apparel's new store that will be located in CityScape in downtown Phoenix!  I'm so excited to support his business, which employs local folks, gives back to a variety of charities and is an environmentally-friendly company.  Such a great new company!  Go Roman and your amazing team!  I can't say enough nice things Roman and RA Apparel, so my daughter and I were happy to donate our time and smiles to be a part of the company's upcoming look book.  And Roman just emailed me these two shots of us from the shoot….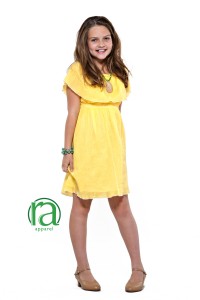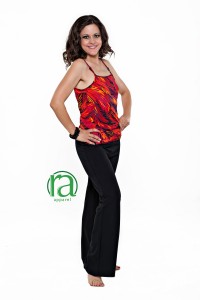 Fun day, great company and my girl and I were happy to support RA Apparel and all of the great work they are doing to support the community!  To see some of their fabulous fashions modeled by real models, check out RA's Facebook page.