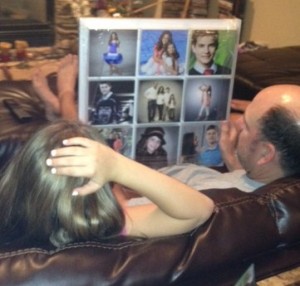 Our surprise Father's Day gift to my hubby.  This awesome photo art design piece was photographed by professional photographer John Hall and created by the talented artist Sharon Brenner.  See more about both of them in my Father's Day Gift Guide article. 
On this Father's Day, I honor and thank my own husband and my dear Dad.  I also have to honor the step-father I had growing up, Pete and the stepfather that I love and have now, David.  And I simply adore and love my Father-in-law, Charles to pieces, too.  I am quite blessed to have so many wonderful Dads in my life!
And I also reach out to those of you who miss your Fathers today.  With all holidays, there is joy, but I also remember those of you who feel the loss on a day like today.  I am thinking of all of you on this Father's Day, too. 
To my own husband and to my father, Dennis…I thank you for being awesome, terrific and loving men in my life.  Thank you Grandpa Dennis for being such a loving granddad to my two kiddos that adore you!  And Pop Pop, my children love you so much!
To my husband, I truly couldn't have asked for a better Father for our children…and for our kitties, too!  Raising our son and daughter with you is our amazing wonderful journey and I thank you for the patience, steady hand, guidance and good humor that you incorporate into our all-important job each and every day.  So much joy in our life because of you…
Happy Father's Day out there!