Manic:  Traveling 2,000 miles and organizing our schedule so that we could sight-see and visit all of our awesome family members that live in that area!
Managed:  Putting together a game plan that enabled us to do the tourist thing and to spend valuable time with our beloved family.  So after spending several weeks mapping out our trip plan, our vacation was a success!  We decided to spend the first couple of days in DC to sight-see.  After researching a huge number of hotels, we chose the Hotel Palomar in Dupont Circle and we loved it!  Read on to see our review of the property and a little bit about the historic Dupont Circle neighborhood that houses the hotel.
Our Hotel Pick:  Hotel Palomar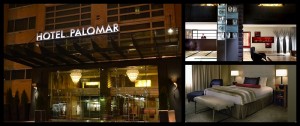 These pretty Palomar photos come from the company's website and the real thing looked just like this at the property.  I love when hotels look as good as the promo pictures!  Oh and don't let me forget to mention the complementary cocktails the hotel offers in the lobby to guests in the evenings.  The summer sangria was delightful for this manic managed mom!
Here are some of the pictures that I took myself of the Hotel Palomar…
Before we left for our trip, I had researched a lot of different hotel options.  I kept coming back to the Hotel Palomar because almost every review I read commented that the customer service at this DC hotel was exceptional.  And I can't stress how true that turned out to be!
Everyone from the nice gentlemen that stood ready to open the door for arriving guests to the front desk personnel to the room service staff….every person went above and beyond to ensure that our stay was a good one.
And I must brag about the warm and wonderful concierge, Philip Biggerstaff.  Lucky for me, we met him on the first day of our stay and he was on duty the three days that we stayed there.
On our first morning, as my family slept in, I snuck out to have my hair styled, so Philip found me a great salon.  He even loaned me his own sunglasses to wear on my walk through Dupont Circle to the location. That is actually kind of a funny story because when I asked him for a cab, he insisted that I walk the short and scenic distance to the beauty parlor.   Coming from the Phoenix area, where we do a ton of driving due to hot temps and a very spread-out city, Philip knew immediately that I was not a downtown city gal used to walking everywhere….and I was a little embarrassed that I was so quick to ask for a car ride!  But Philip made me feel right at home with a map and easy directions.
I was so glad that he suggested that I walk because the Hotel Palomar is in a great location, right in the heart of the historic and trendy Dupont Circle neighborhood.
Philip also provided me with a list of cool places and delicious restaurants for my family to visit, like the scrumptious Pizzeria Paradiso that was located right down the street from our hotel.  We had friends tell us later that this pizza place in the best in DC, so thanks to Philip for the delicious recommendation!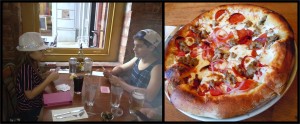 In fact, every single day he greeted us with unique ideas that suited my entire family.  I will share those places in tomorrow's post, so stay tuned for that.
I also have to tell you about the extraordinary service that Philip provided on our last day.  When our rental car failed to be delivered as promised, he actually walked to the rental car offices to retrieve our vehicle for us!  So nice!
This was helpful because we were on a schedule to leave DC to travel to our family in the Maryland suburbs.  That completely demonstrates just how nice Philip is and how the Hotel Palomar staff truly does go above and beyond.  I was really impressed!  Plus Philip's personality is a combination of DC downtown smarts and the southern hospitality he grew up with coming from Texas.  I just had to brag about Philip Biggerstaff!
In addition to the cool Dupont Circle atmosphere, our hotel was also very close to a neighborhood Metro train station location that took us to all of the scenic must-sees like the White House, Lincoln Memorial and more.
My kids really enjoyed navigating the Washington Metro maps and riding the trains.  It was great to enlist them to help us plan our daily route.  This kept the trip interesting and fun for them and they enjoyed taking a bit of ownership as our family did DC!
One last note about the Hotel Palomar.  It is pet-friendly and sports a variety of room types and prices, so check with your travel agent, the hotel website or one of the travel sites to see prices.  We found a variety of prices based on availability, room type and booking sites.  The Palomar is less than the high-end properties like the Four Seasons and Ritz Carlton and is mid-range in price.  Since our kids are tween and teen-aged, we wanted to stay somewhere unique, fun and funky and the Hotel Palomar by Kimpton Hotels delivered.
I did find a good family friendly list of DC hotels in a Frommer's article and another one of Kimpton's hotels was listed called the Monaco Washington DC.  For us, the other Kimpton property, the Hotel Palomar was just right.  The hotel also sports a pool and kids receive a gift upon check-in.  Definitely a hip, trendy and fun place to stay that my family of four really enjoyed.
***No compensation was provided by the Hotel Palomar.  We took this vacation on our hard-earned dime and the opinions are 100% mine.***