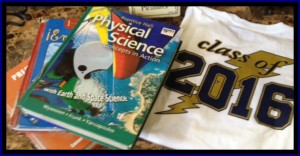 Manic:  Motherhood!  Was it Erma Bombeck who coined this powerful phrase???….
"With kids the days are long, but the years are short"….so true!
Managed:  My son!  He is managed and ready to start high school and I am….well a little sad…mostly happy, but a little sad, too.
You see the first day of Kindergarten was bittersweet, warm, teary and wonderful all in one.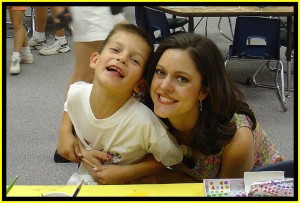 In Kindergarten, he proudly posed for a picture.
The first day of middle school was also special, but that day was more for him, with not a lot to do with me.  In middle school, he would have disowned me if I would have tried to snap a shot of him entering his new school!  Notice that there is no first-day of middle school picture here in this article!  I wasn't allowed to get one that day! 
And now as he starts high school, I am very aware that he is counting down the the days through this 4-year journey, while I'm holding on to each day that his high school years will bring me.  And countless friends have told me that the high school years go by the fastest of all!  Again, bittersweet!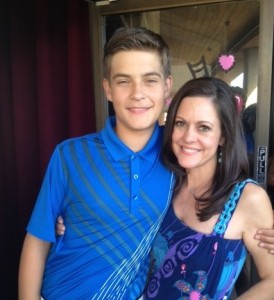 I may not be able to take his picture at the school…well I'm sure that he won't allow that!  But I will insist on one shot in the privacy of our own kitchen where his friends won't see his geeky mom taking first day pictures of my 5'10 young man!
However, parents do get to attend Freshman Friday!  Not with the kiddos….my son is thanking his lucky stars for that, but we moms and dads get to attend an orientation at the same time that the teens are headed to their first class.  Yep, I plan to be there for that next week!
I also plan to attend the football games, the pre-dance celebrations where I'm allowed to take his picture and any other high school year events that parents are welcome to share.  Because these are my last four years at home with my first-born….my son who has grown so quickly right before my very eyes.  It truly feels nothing short of an incredible magic trick when I think of how fast he went from a little bouncing baby boy to a young man with a deep voice and long legs.
And as he tackles his honors courses, practices driving to get his license, goes to the prom and all of the other firsts that will happen so quickly between now and 2016, I plan to enjoy all of it to the fullest.
As I write this, I still find it hard to believe that my 9-lb baby boy is now my big guy who towers over me and lovingly calls me shrimp!
I wish him, his friends and all of you rookie high school parents out there an amazing, successful and fun-filled next four years!  Here's to the Class of 2016!