This week's pet pic is from several years ago and I call it lucky, lucky me because I got to hold a tiger cub!  My kids were so envious that they were in school that day!  The cub was visiting our KTVK morning show from the Wildlife World Zoo (one of my favorite zoos ever) and when asked if I wanted to hold him, I replied with a hearty yes!  Take a look at the cool picture and yes, I know that I need a lesson on how to properly hold a baby tiger!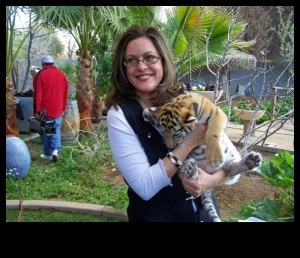 I know this picture isn't truly a "pet" pic…but I had to share when I found it and I thought it was fun to place in this weekend's pet post.
Send us your pet pics because we love to get them and post them every weekend!  Our pets remind us to relax, breathe and just be content to have time to spend with our furry loved ones!
Email your pet pics to [email protected] and have a great Sunday!