Manic:  My mind when I think about how I want to update my home decor on a limited budget and with very little free time to do so!
Managed:  Received a great article about how to transform a living room with a few simple steps from guest writer Justin Greig.
Justin says: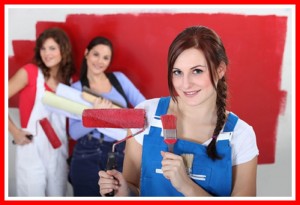 Transform any living room without breaking your budget using these six easy-decorating tricks. Forget pricey consultants and decorators; A living-room makeover can be a great DIY project. Simple changes can sometimes make the biggest difference. From the right accessories and lighting to paint and window treatments, decorating and shopping on a budget can be as easy as finding a unique wall hanging or the perfect bamboo blinds.
Vision
Before diving into a living-room makeover, decide how the space will be used. Is it a functional family room that needs ample seating and a play area? Is it a formal space, used primarily for entertaining? Is the living room's current functionality OK, but the room just needs some pizzazz? Depending on what you want out of the living room, you will have very different stylistic needs. Narrowing the vision for a DIY makeover can give the project focus, making it easier to complete.
Paint
A quick way to change the look of any room is to change the walls. Painting often is faster and easier than wallpaper. A fresh coat of paint in a bold-color choice or a subtle hue to compliment the room's furniture can create a new dimension for the room. Consider painting one wall as an accent wall. Paint it a different shade or use a fun paint technique such as crinkle paper painting or a faux stucco treatment for an earthy texturized look.
Window Treatments
New window treatments can dramatically change the look of a living room, and finding the right provider can make it easy. Window blinds from Blinds.com come in a variety of shapes and materials, from wood to aluminum blinds and even plantation shutters. The selection to consider for new window coverings is vast. Get creative and switch from a traditional mini-blind to an elegant Roman shade in a color or pattern. Or opt for an eco-friendly bamboo roller shade in a warm, earth tone. Consider several styles and look for deals. Finding deals on blinds can keep the makeover budget on track, but make sure to stay true to your design scheme.
One Unique Element
Choose one special element for the room as a focal point. It can be a focal wall with a large wall art on it, a unique lighting sculpture, or an eye-catching accessory. When working on a budget, look to the home's other rooms for inspiration. A unique element may be found in the bedroom, office or tucked away in a storage closet. Or you can make some artwork yourself using a canvas and a little inspiration.
Rearrange
It's easy to fall into the trap of keeping the living room furniture in the same arrangement year after year. Experiment; it may take some exertion moving furniture back and forth, but until it actually can be seen in a new arrangement, the vision may not be recognized. Break that sectional up to create a new seating arrangement. Establish a reading corner with a comfy chair and natural light from a window. Swap out the old coffee table for two smaller tables or for that fantastic steamer trunk that's been stuck in the closet for the last 10 years. Pulling elements from other parts of the home is an inexpensive way to get "new" items for a room makeover.
Lighting
A simple way to change the lighting look in the living room is to switch out old lampshades for new. Change white shades for a colored shade to match the room's color palette. If the budget allows, splurge on a new lighting sculpture than also can serve as a unique element.
Refreshing the living room's look can be done in a weekend with a little vision, creativity and enthusiasm for change. It doesn't have to cost a fortune, either. A budget-friendly DIY living room makeover is doable when you look for deals and shop for elements among the home's other rooms.
About today's guest writer:
Justin Greig began his interest in home and interior design while studying graphic design at Curry College. Today, he combines interests in mobile applications and modern home design, while freelancing for various publications.