Manic:  Me….but less so now since I've been doing yoga!
Managed:  And when guest writer and fitness writer, Marguerite Boyer, asked if she could tell our readers about doing yoga with your dog, I was quite intrigued, so I agreed!  Read all about it…
Marguerite says:
 Doga – Yoga with Your Dog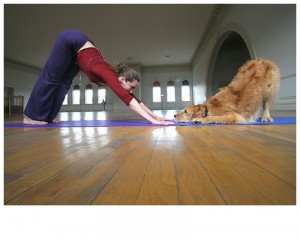 Yes, you read it right!  Yoga is no longer confined to humans – it is now for dogs as well!  Doga, also known as doggy yoga, is a unique idea that helps you to exercise with your own dog.
It is a very elating experience, particularly if you want to get spiritually uplifted and physically fit, when performing with your pet.  Interestingly, your own dog now gets an opportunity to experience the same sense of harmony and peace after a Doga session.  According to the Doga instructors, doing yoga with your dog helps you to purify, balance, synchronize, and transcend your mind as well as your body.  This practice is unique because it leads to a synchronization of energy flow between you and your pet.
This is probably because dogs have the power to detect energy around them with their special instincts, and then respond to it accordingly.  Have you ever noticed that even dogs become anxious or look stressful when you become anxious?  Similarly, they also look energetic at the time when they see you thrilled with something.  So, this means that dogs can identify the energy in the surrounding environment.  And, when dogs also get stressed out, they need yoga to calm down, don't they?  Well, this is why doga has come into practice.
Do Dogs perform Doga?  
As a matter of fact, dogs do not practice yoga on their own.  It is actually the people who help  their dogs perform so that they can focus on breath and mind simultaneously.  In the doga session, the pet owners can even guide their dogs on practicing several yoga poses.  Doga is suitable for dogs of any age, but people prefer beginning with the younger dogs (a pup), as it is very easy to train them.
What Happens in a Doga Session?  
Usually, a Doga class begins with some breathing exercises followed by a small walk with certain poses to be performed on the way.  Then, there is a seated yoga session for half an hour with dogs.  The goal also includes offering some exercise to dogs where the practitioners also learn a few massage techniques for their dogs' joints and legs to make them feel relaxed. The learners also make use of mats to go through a few stretches and the trial of putting their dogs in a few yoga poses.  The key is to remain calm and not get excited or else the dogs might sense it and they might start jumping.
What are the Benefits of Doga?  
Doga offers several benefits to you as well as to your dog as listed below.
It strengthens the human-animal bond between you and your pet.
Yoga when done with pet makes beginners more comfortable, relaxed, and focused, as it is not easy to maintain poses ,they can easily be distracted. However, with a dog, it becomes easy to focus on poses.
Doga helps in calming down hyper active dogs, as it stimulates the release of endorphins even in dogs.
Doga is very useful for injured dogs because of the inclusion of joint massage that help in reducing joint stiffness and increasing flexibility.
In short, Doga is a great way to keep your pet calm and happy.  Remember, happy pets refer to happy owners as well!  So, do take your dog for a Doga session today!
***Editor's Note – After reading this post from our guest writer, we found a website link that has Doga instruction videos!  So you can order that if you are interested in learning more about this interesting way to exercise and bond with your pooch!
Our guest writer's bio:
Marguerite being a fitness enthusiast loves to blog on fitness and topics related to fitness. You can check out her latest post on on her website that is called The Fitness Geek.