Manic:  My daughter's Halloween party for her show choir is tomorrow night and she promised her pals that our house would be scary!
Managed:  Did a little shopping at Party City and Walgreens (both had great decorations) and called my good gal pal, Julie McMillian and her daughter Kayla, to enlist their creative help!  So my first manic mom suggestion is to ask for help from a gal pal that not only is talented in this area, but really enjoys doing it, too! I think we did alright.  Take a look…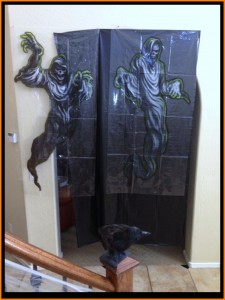 Once we decided which rooms that we didn't want to party in, we sectioned this area off with an inexpensive black table cloth (or use a trash bag) and placed this creepy creature wall hanging from Party City over it.  My daughter also had the idea to use this as a photo back drop.  Good thinking!  Of course, this will look scarier at night!
Walgreens sells this haunted head for $19.99 and we just had to get her.  She is motion detected so unsuspecting guests will be greeted by her eerie messages when they walk by en route to the bathroom! Fun!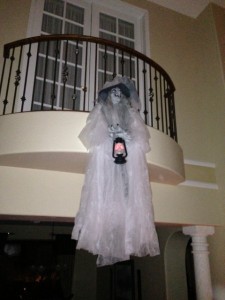 Love this one!  Super scary!  Ask friends if you can borrow some of their Halloween decor to enhance your own party.  My awesome friend, Lisa (also our Family Matters managedmoms.com writer) offered up this wicked witch!  So we placed her up high and put a lit lantern in her hands.  This one might be my favorite decoration!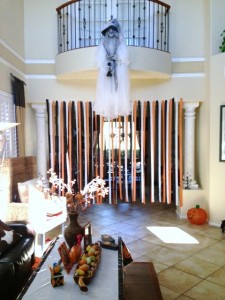 Streamers can stream all directions!  They don't have to be draped the traditional way.  Have fun with streamers because they are a cheap item and can really enhance your party decor!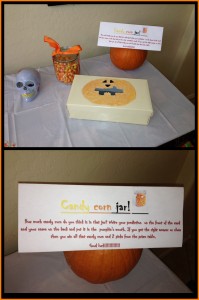 Make your game stations part of the decor, too.  My girl wants to do the candy counting game in a jar.  So she made a clever sign on the computer that we placed by the game.  The glass skull lights up at night plus my daughter made that skull herself at As You Wish Pottery Painting Place.  And I love how she turned an old shoe box into the guess drop box.  So for the cost of a bag of candy corn, we created this fun game with mostly items that we already had on hand.  So fun!  To read her sign, click the picture to get a closer look.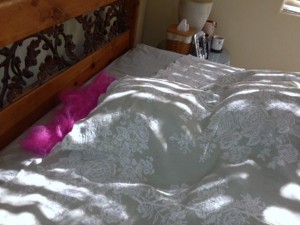 Incorporate your kids' ideas as they are usually fresh and unique and give your children ownership of their event.  My girl's clever idea to create a shape under the covers that appears to be a body and then she used a hot pink wig from her toy costume box!  So this decoration was free since we used items already on hand.  This bedroom is on the way to the guest bathroom, so party goers will get a sleeping surprise when they enter! Love it!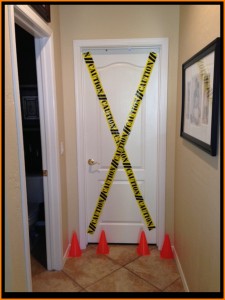 Use last year's decorations and things you have on hand.  Another simple idea to block off a laundry room, or an area that is not intended for party goers, is to simply secure caution tape on the door and place several orange cones in front of the entrance.  We already had the cones on hand.  So when you are decorating, try to use items that you already own to save money.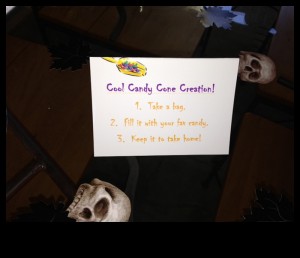 Use signs and small props to put the creepy in the contests and activities.  This is a station where kids will fill their own personalized candy cone bags.  By making a sign using the Chiller font and adding a few little skulls, it became frightfully fun in a matter of minutes!
This freaky frame moves, screams and laughs when passerbys make noise.  It is a great surprise and looks out of place, as it should in a haunted house.  We got it at Walgreens for only $7.79 and it is called the Possessed Portrait!  Perfect!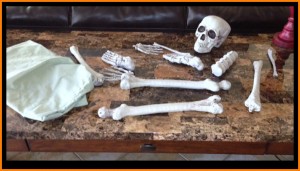 Another game/decor idea that is completely my daughter's creation is a game she calls Bag of Bones.  The idea here is to time your guests to see who can get all of the bones in the bag fastest, while being blindfolded.  I love her idea and it adds yet another inexpensive decoration.  The Lifesize Bag of Bones sell for only $7.99 at Walgreens.  She placed a green pillow case on the table to be used as the collection bag.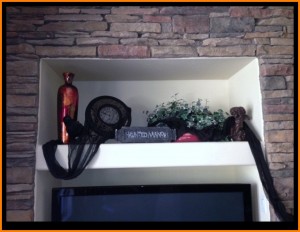 When decorating, compromise with your children.
 In this area, my girl and I compromised.  I didn't want to completely dismantle all of my recent home improvement knick knack displays, so she placed the black cloth over my items, draping the clock and I added the Haunted Manor sign that we had from last year's decorations.  It works!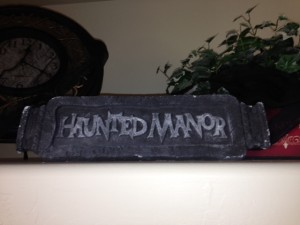 And I will close with a grizzly greeting from our hired party butler….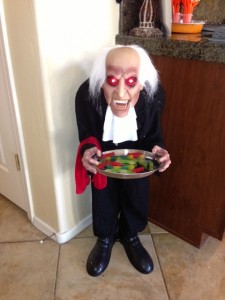 He says to tell you that he came from Walgreens and is the perfect creepy compliment to your buffet area.  He also tells me to wish you a Happy Halloween and to share your own Haunted Halloween party ideas here in the comments section.
**No compensation was received at all from Walgreens, Party City or As You Wish as this was all done on our dime and with no payment from any company whatsoever.  This article is completely owned by myself, my daughter and the wonderful McMillian Home Decor team!**