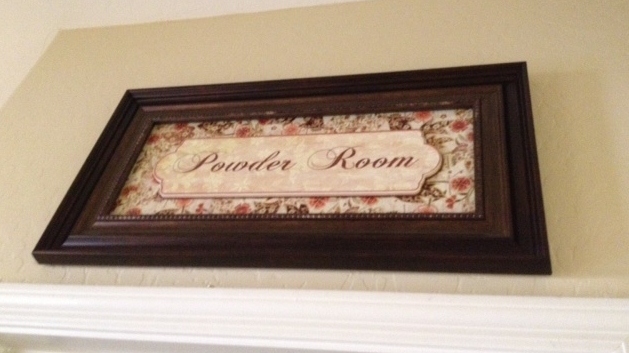 Manic:  Our downstairs guest powder room!  After living in our home for 7 years, the wallpaper was peeling off and was filled with unsightly streaks of soap and water stains near the sink!  I dreaded it when guests needed to use the bathroom.
Managed:  Asking my family for a bathroom makeover for my birthday gift this year!  My hubby agreed and let me spend the expensive amount of money it took to hire a company to peel off the wallpaper.  I highly recommend paint over wallpaper after spending several hundred dollars to get the stuff off.  Annoying!  My parents and my in-laws sent me birthday checks that I put toward the makeover once the wallpaper came off the beat up walls.  All went pretty well, except that I forgot to take a before picture to show you, so you will have take my word that the before bathroom was pretty bad, but take a look at the after photos to see what we did.  There may even be a few fix-up tips for your future bathroom mini makeovers, too!
And I can't forget my good friend, Julie McMillian who offered to paint my new bathroom for fun!  Since she doesn't know how to faux finish, she became my bathroom redo consultant instead and that became the best birthday gift ever….having a good friend give me her interior design ideas.  She is quite good at it!  And my other Julie friend helped us, too!  Home decor shopping and good gal pals….now that is a fun night out!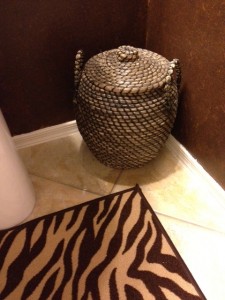 A pretty basket, that I found at Ross, houses toilet paper rolls.  I used to store extra rolls on top of the toilet in an exposed square basket, but this looks much nicer.  No more clutter in this bathroom!
My Julies told me about a great store called Kirkland's that has all kinds of great home decor at discounted prices.  Our managedmoms.com home decor expert, Bridget had also told me about this store last year, but I hadn't made it over there until now and I love it!  We found the rug, the candle sticks and two more very cool items at the Chandler store….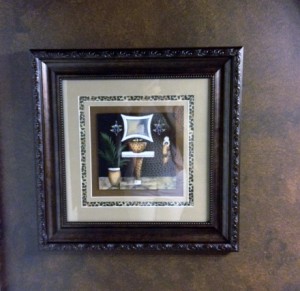 This cool picture of a bathroom sink that looks similar to mine!  Julie M. told me that she likes to decorate different rooms with pictures of that particular's room theme.  I agree!  This is fun and looks very nice against the new faux finished paint.  And to top it all off….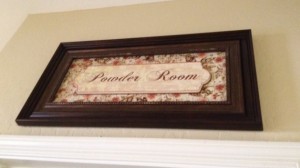 This awesome Powder Room sign that I had to have!  It was on sale for $12.99 at Kirkland's.  Julie recommended that I place it above the entrance door to the new powder room and I love it!  So do you like my new powder room?  It is amazing how a new paint job, a declutter session, a little rug, candle holders and more can turn an ordinary and worn bathroom into a polished powder room!  What are your bathroom makeover ideas?