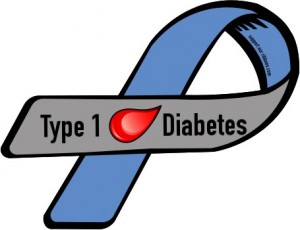 Today is Diabetes Awareness Day and our writer, Lisa Walton, became much more aware of Diabetes when one of her best gal pals shared the news that her little girl was diagnosed with Type 1 Diabetes four years ago.  It was a shock to say the least, since the disease had not been in their family.
During one of Lisa's recent visits, she was so touched and impressed by just how hard her friend works around the clock to manage her daughter's condition.  To honor World Diabetes Day and to pay tribute to her friend and to all of the other people, and parents of the children, dealing with Diabetes, Lisa asked me if she could share a day in the life of her good friend, Tonya and her daughter's daily battle with Diabetes.  So Tonya Homme journaled a typical day and shares it with us today.  Here is a day in the life of sweet little 5-year-old Charlotte and her amazing mother, Tonya.
Please read it, support Diabetes Awareness Day and considering donating to the cause through Tonya's awesome nail polish line called Tips 4 Type 1 that she created with 100% of the profits going to fight this frustrating disease that so many people deal with day in and day out like little Charlotte and her hard-working and loving Mom.
Tonya says:
12:00 Midnight – bg = Blood Glucose (blood sugar) check – this involves holding a mini light between my teeth, inserting a test strip in her bg meter, and then pricking one of her little fingertips with a lancet to get a drop of blood to apply to test strip. Then wait for 5 seconds to get result… shoot!-her bg is high, most likely because we changed the site of her insulin pump before dinner (must change site every 3 days). We also had a new recipe for dinner. It is very hard to guesstimate correct amount of carb content in each new food. Give insulin, take to bathroom – needs to go potty more when bg is high. She wears an insulin pump, which makes giving insulin much easier. We used to have to poke her with a syringe every time. Now we just push a button on her pump and it delivers the insulin into her body through a tiny cannula tube that is inserted into her skin at all times.
2am – bg check – high, but coming down, give more insulin
4am – bg check – still a little high, coming down, debate whether or not to give more insulin – don't want her bg to crash too low, but don't want her to wake up high, either. Give a tiny bit more insulin.
 6am –  bg check – a little low (darn it! gave a little too much insulin) – feed sleeping child half a fruit strip, she has learned to eat and drink anything in her sleep. Let her sleep one more hour before waking up for school
Meanwhile, I go to the kitchen and get out my sharpie to label the carb content on everything I pack for her snack and for her lunch.
Change the lancet needle in her "poker" (her name for our lancing device we use to prick her finger for her average of 8-10 bg checks per day)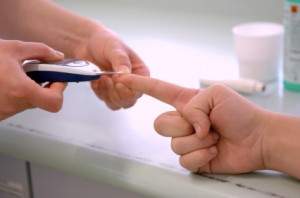 7am – Get her up, measure all food and milk, calculate total grams of carbs in breakfast, give correct dose of insulin to cover carbs, make sure she eats entire breakfast and finishes all of her milk. Pack up her bg meter for school
 7:45am – Take her, her backpack, her bg meter, her snack and her lunch to school.
Drop her off at her classroom, inform teacher that she will be picked up 15 mins early today because we have one of our quarterly (every 3 months) appointments with her endocrinologist (diabetes doctor.)
Drop off bg meter, snack, and lunch at the Health Office. Give school nurse (who is an actual R.N.) a brief explanation of what our past 12 hours have been like
 **While she is at school, make sure to always have cell phone handy, in case nurse calls with a question or concern (feels like I am always "on call")
I time anything that might make it difficult to hear phone ringing (shower, vacuuming, shopping in busy store with poor reception, etc.) between snack time and lunch time – so as not to miss a call from nurse
 10am – Nurse calls. Surprise! A parent has brought in cupcakes for their child's birthday today. Figure out carb counts with nurse describing over the phone size and quantity of icing on birthday cupcake. Make best guess and hope all goes well until lunch time check.
 12pm – No call from nurse. I guess everything is fine. The nurse calls me if she has a question, and she also calls me if her bg is too high or too low.
2pm – Leave home to pick up daughter from school. Stop in Health Office to find out the bg readings for the day and pick up her bg meter. Our bg meter is also the remote control that controls her insulin pump. It is the only remote control that will operate and communicate with her pump, so it must travel with her to school and then come back home every day.
Gave nurse a paper I wrote containing T1Diabetes info to pass along to Student Council. They are meeting tomorrow and I wanted them to have the info, just in case they want to do a school-wide awareness activity.  November is Diabetes Awareness Month, November 14th is World Diabetes Day.
3pm – Endo Dr. visit – (every 3 months we get an a1C test that shows what our overall average blood sugar has been for the past 3 months. It's like a gauge of success or indicator or predictor of possible future complications, etc. We call it our 'report card'. Very nerve-wracking, as much as I tell myself, "It's just a number." So, when it comes down, I'll take it), a1C improved  and made changes to bring it down more, endo called pharmacy to find out why we are receiving the wrong kind of test strips frequently.  On the way home, got call from pharmacy, asking how they can improve, promising to improve. Oh the difference a call from a doctor makes. I have called them six times when this mix-up has happened, and it keeps happening. We'll see if they get our order correct now.
4pm – check bg again, within target range. Calculate carbs and give insulin for snack in car on way home.
Get home, do homework and relax for a minute or two
 5:30pm – check bg again, figure carbs and give insulin for dinner
7:45pm – bg check at bedtime, a bit on the low side (tonight gave a bit too much insulin to cover for dinner?)  head downstairs for a snack, give no insulin, hoping she doesn't go high, but want her to have enough carbs in her system to work on throughout the night
11pm – bg check, a little high, give insulin… sleep for a couple more hours, re-check three more times before morning. 
 And…. Repeat…
Day after day…
Until there is a cure!
 **This is a typical 24 hours in the life of a person with Type 1 Diabetes, with the exception of the visit to our endocrinologist, which only happens once every 3 months (if everything is going smoothly). There are NO breaks. No cheating (like when you get tired of following your diet.)  EVER!
There is no predictability. You can eat the same thing at the same time two days in a row and get vastly different outcomes.
It is a hard disease to live with, but we do the best we can to let our kids be kids, just like everyone else!
Editor's Note:  Want to help families like Charlotte's in the fight to find a cure for Diabetes?  One way you can help is by donating to the Diabetes Research Institute (DRI) or Juvenile Diabetes Research Fund (JDRF).  A fun way to do that is by buying nail polish.  Tonya started a fundraiser called Tips4Type1 selling blue and silver (Diabetes awareness colors) of nail polish.  $10 from each purchase goes directly to the Diabetes Research Institute.  Visit my site for more information www.tips4type1.com.  Tonya (and so many other moms like her) is one mom who works hard every single day (and night as learned in this article) to manage a manic disease.   We honor her today with this article and managedmoms.com is buying some Tips 4 Type 1 nail polish today to support the cause and to include in some of our weekly Freebie Friday prizes packs!  We wish Tonya, her daughter Charlotte and the many other families affected by Diabetes good health and we pray for a cure to be found for this difficult disease.
About our writer, Lisa: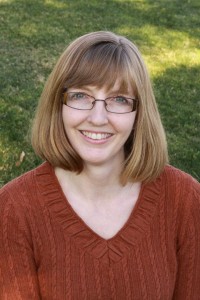 Lisa Walton–Parenting tips Valley Teacher and Mother
Lisa Walton has been a teacher in the Valley for over 18 years. She holds a Bachelor's Degree in Deaf Education from Illinois State University; and Master's Degree in Special Education from Arizona State University. She currently works as an itinerant teacher, collaborating with regular education teachers in the public schools.
Read more about Lisa on our team bio page