Manic:  Me…and I'm guessing a lot of parents and grandparents the last two weeks preparing for Christmas, traveling and more.  So when my tween daughter asked me to let her loose to make a Christmas cake, I hesitated.  I didn't want the mess and I didn't want to spend the time it would take to get her to the store and more to bake.  Plus I knew she wanted to make a fancy cake for our Christmas dinner.  I say that because my kid is the type of child who believes that when you take on a project, you either go big…or go home!
Managed:  Decided to let go of the stress and let her go for it in the kitchen.  She assured me that she knew what she was doing because she had seen it on the Cake Boss show!  I started to worry again since the televised cakes are quite elaborate, but in the spirit of the holidays, I once again decided to let her go with her big cake plans.
I have found that part of parenting is knowing when to let your kids try doing things by themselves with little supervision….when the time seems right.  She was determined to do this herself, so I decided that 11 years old is the right time to let her try.  I did hang out in the background, but I truly didn't lift a finger.  One thing I love and fear about parenting is how many firsts you have to let your kids try and this ended up being a fun…and successful experience!
I'm happy to report that she did a fabulous job from start to finish with only minimal help from me.  Take a look….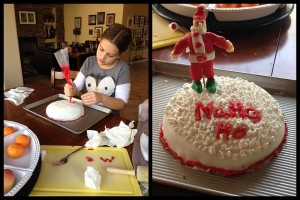 The cake says Ho Ho Ho because she decided that Merry Christmas might be too big to properly fit across the cake.  She used fondant icing and knew to roll it out and frost it just like she had observed Buddy do it on Cake Boss.  And then she really impressed me when she turned a Rice Krispy treat into a standing Santa, complete with green boots because she didn't have brown frosting.  I was very proud and the cake was a big success at our family's big holiday lunch today!  Even her teenage brother was impressed as he snapped pictures of her cutting the cake…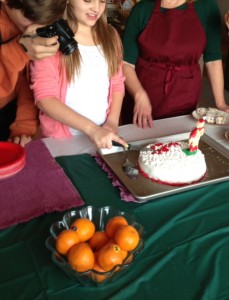 And here is a great close up shot that her brother took of the finished cake….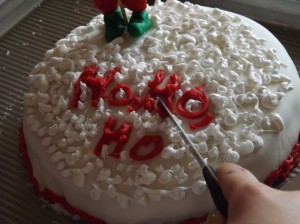 So as I admire the cake and think about how I decided to let her take this on by herself, I am reminded to be thankful on this Christmas Day for the opportunity to work daily giving my kids and their roots and wings. Since my kids are getting older now, it seems to be more about the wings lately and that is taking some getting used to!
I hope you all are having a lovely Christmas Day enjoying each other…fancy cakes and all!  Merry Christmas!