Manic:  Me trying to constantly come up with dinner ideas!
Managed:  Did a very cool thing last year when I signed up for weekly cooking classes with a couple of girl friends!  And now our awesome cooking teacher, Lyn McGuire has decided to share her goodness with all of us with her new line of homemade sauces called Nonna's Nature's Way Organic Sauces!  I am so happy for Lyn and even more thrilled that I can grab a jar of her homemade sauces and have a healthy and yummy dinner ready for my family in a snap!  I asked Lyn if I could write an article about her sauces so I could tell all of you the good news about her tasty sauce line!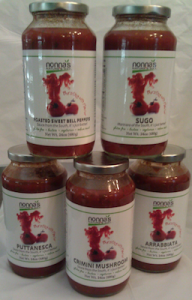 Lyn offers five fabulous flavors that come from the recipes of her ancestors' home in the Puglia region of Italy.  With each jar, you truly get a taste of Italy from Lyn's family cookbooks!  The five varieties include:
*Sugo
*Crimini Mushroom
*Arrabbiata
*Roasted Sweet Bell Peppers and Garlic
*Sugo alla Puttanesca
And I can tell you that I got to cook with all five varieties in my weekly cooking classes with Lyn and they are all good!  The Sugo sauce can be used for multiple recipes and I love the Arrabbiata because I like spicy! Another favorite of mine is the Roasted Sweet Bell Peppers and Garlic, but I truly love all of her flavors!
Each sauce is 100% natural and Lyn shares free recipes on her super cool website, too.  All of Lyn's products are gluten free, vegetarian and lactose free.  And like I mentioned, simply scrumptious, too!
Nonna's sauces can be ordered online and you can catch Lyn at many local Farmer's Markets, too!  Here she is recently at the Silverleaf Golf Course Market….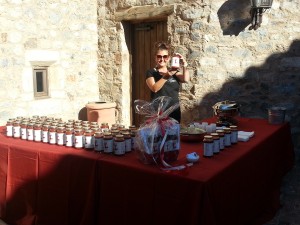 You can also catch Lyn and her gourmet sauces at:
1.  Ahwatukee Farmer's Market at the Ahwatukee Community Swim and Tennis Center
4700 East Warner Road
Phoenix, AZ 85044
(just west of 48th Street)
She is there on Sundays from 9am to 1pm
2.  Scottsdale Old Town Farmers Market
Old Town Scottsdale
The parking lot on the SW corner of Brown and 1st
She is there on Saturdays from  8:00am – 1:00pm
3.  Mesa Community Farmers Market at Rendezvous Green
260 North Center Street
Mesa, AZ 85201
Center St. just South of University Dr.
She is there on Fridays from 9:00am – 1:00pm
Buy it, try it and support my amazing friend and very talented cooking teacher!  You will love it!  I will leave you with a picture of a dish that we made in a recent cooking class with Lyn called Pappardella Alla Cream.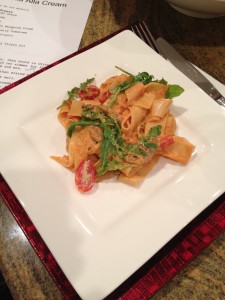 See how good it looks?!  Well it tastes amazing!  And this recipe (and many others) can be made with Lyn's sauces!  So check out her website and order your family some of the good stuff.  Pair her sauce with a glass of vino and you are in for a gourmet dinner made easy!
Congratulations to my cooking teacher and good friend, Lyn!  I am so happy for you!