Before we show you this week's darling pet pic…check this out!
202 Magazine has invited our managedmoms.com readers to submit a picture of your pet for a chance to have your furry friend featured in an upcoming issue.  Every month 202 Magazine features a pet of the month and they are looking for a cute pet to be pictured in a future issue!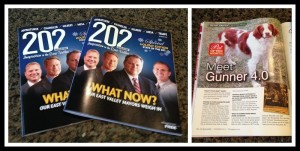 Simply email your pet picture to [email protected] and we will forward your photo on to the publishing/editing team at 202 Magazine.  We will announce the selected pet next month and if your pet isn't selected for the magazine, we will still show your cute dog, cat, bird…or whatever pet you have in a future managedmoms.com post.  So send us your cute pet pics!!
And now for this week's pet pic!  Believe it or not, this sweet doggie loves to open and eat fortune cookies and the fortune she received just may prove that some of those fortune messages are right on!  Take a look….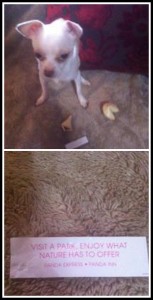 This pup's human Mama couldn't believe her eyes when she read that a visit to a park was in this dog's future!  Perfect fortune for a cutie-pie pup!  So funny!
Have a great weekend everyone and enjoy a trip to the park with your pooch.  And remember to send us your pet pic for a chance to be featured in the very cool 202 Magazine!