Manic:  Me looking in the mirror seeing how my appearance is changing as I proceed through my 40s. I try to not let the new fine lines, puffy eyes and wrinkles bother me, but it does.
Managed: Getting some great advice on this topic from Professional/Celebrity Makeup Artist Karen Hall.  Look at what she says to try instead of Botox or any type of surgery.  And her advice works, as you will see in the before and after pictures that accompany her article…and yes one of those pictures is me!
Karen says:
New year, new you! Thinking of a little nip/tuck, botox or fillers this new year?
STOP!
Before you resort to anything radical, a few make-up tips and tricks from a professional, can have you looking younger this year, than last, without the need for drastic measures. These photos are shot the same day, with the same lighting, and no retouching. Their beauty is enhanced with only a few changes in hair, make-up and clothing.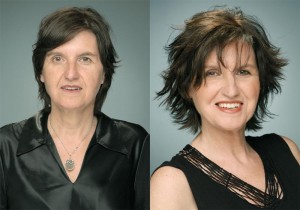 Think about it…..if they had any work done, with no changes in hair and make-up, they may look a bit more rested, but would most likely still look like the before pictures.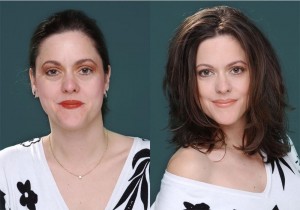 Why not try a professional make-up artist, hair pro, and/or image consultant, and see if you can achieve a fresher, younger look, before thinking of injecting yourself with questionable substances or going under the knife…..then, if you still feel the need, you will have the tools to look even better after any procedures you may choose!
***And a note from me, Rachel – I went to Karen a few years ago to have this done.  I was doing more on camera work with KTVK and I knew I needed some changes, especially with how harsh the high definition cameras can be at times.  I was thrilled and truly surprised that just a few of her recommended changes could make such a difference!  I highly recommend visiting Karen for a lesson.  She also gives you a face diagram/chart with her notes and suggested products for your skin type and coloring, so it is easy to remember what she taught you because you can refer to your personalized page.  Very cool!***
About our writer & expert, Karen Hall: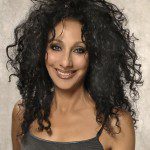 Karen Hall, Celebrity Makeup Artist
Karen Hall has dolled up the likes of Paula Abdul, Faith Hill, Conan and many more world-wide celebs that come to Phoenix to perform or make personal appearances.  Karen is called in to make the stars look amazing and many of these celebs end up asking Karen what her own personal secret is because she looks 30 years younger than her age…which she will tell you is over 60!  Hard to believe, isn't it?!   
Read more about Karen on our team bio page