Manic:  Keeping my informal New Year's resolution to cook healthy meals for my family that will also keep us on a tighter budget!  I say this is manic because coming up with different daily meal ideas, without making daily trips to the store, isn't always an easy task.  Plus I have a teenage boy in the house who eats a lot!
Managed:  Recently visited the Sprouts Farmers Market located on the Northeast corner of Tatum Blvd. and Cactus Rd. in Phoenix.  I decided to visit this particular store because this location is celebrating their 10th anniversary, so the grocery store had recently been refreshed with an updated look and some cool new features.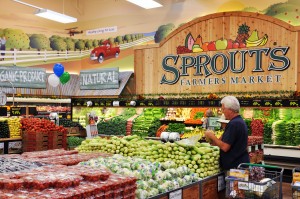 In addition to finding some new dinner ideas, I also discovered that Sprouts Farmers Market has some unique departments that will help you serve healthy meals on a good budget, too.  Plus read on to see how to be in the drawing to win a $20 Sprouts Farmers Market gift card, too!
Sprouts Shopping Tips:
*Get all your vitamins at Sprouts for big savings!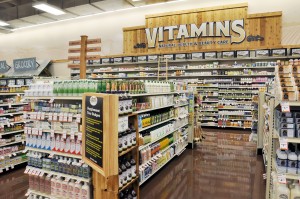 Anytime you spend over $100 on vitamins in the Sprouts Farmers Market vitamins and supplements department, you always get 10% off!  AND check this out…the Sprouts Vitamin & Body Care Extravaganza happens through this Wednesday, January 9th, which means you get 25% off regular retail on all vitamins, supplements and body care items!  So through this Wednesday, stock up on your vitamins and body care products and get the 25% off sale, plus the additional 10% discount if you spend over $100, and you walk out with a bag full of healthy vitamins and soothing body care products at 35% off!  Now that is smart shopping!
 *Shop in Bulk for Bulk Savings, Supplies & More!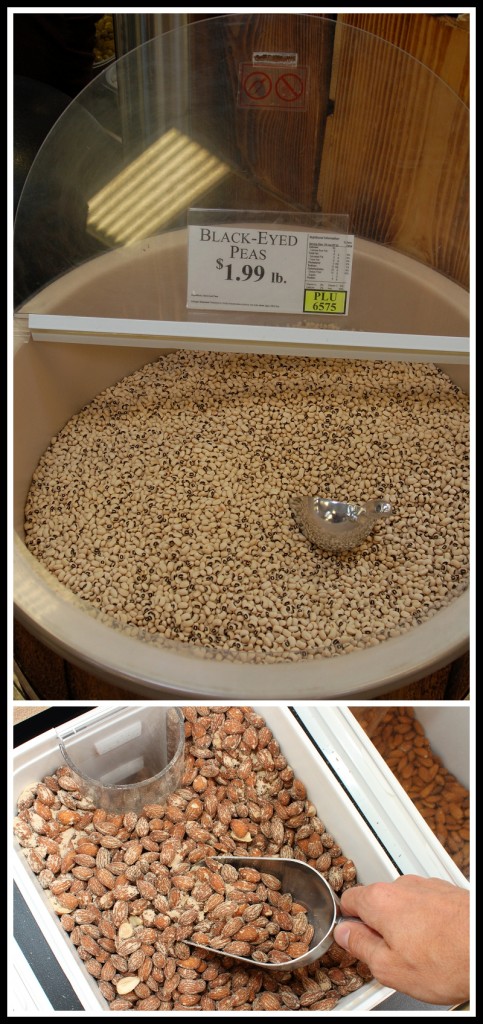 Bulk buying is the way to go, especially in the Sprouts Farmers Market bulk section!  With over 300 daily varieties of bulk foods that include nuts, beans, granola, baking ingredients, sweet treats and more, you can't go wrong!  Did you get your black eyed peas at Sprouts for good luck this New Year?  We did!  Buy the 10 bean soup in bulk and make a yummy dinner for your family or indulge yourself with a bulk treat like the Dark Chocolate Cherry Almond Clusters…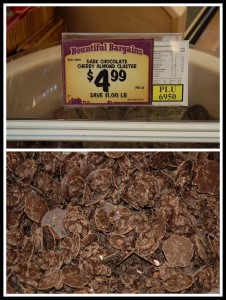 Yep, those taste as good as they look!  Bulk buying at Sprouts Farmers Market takes up less space in your pantry because you can pick and bag your size while making some extra space in your wallet with the cash you save, too.
*Spice Up Your Life with the Smart Spice Bar!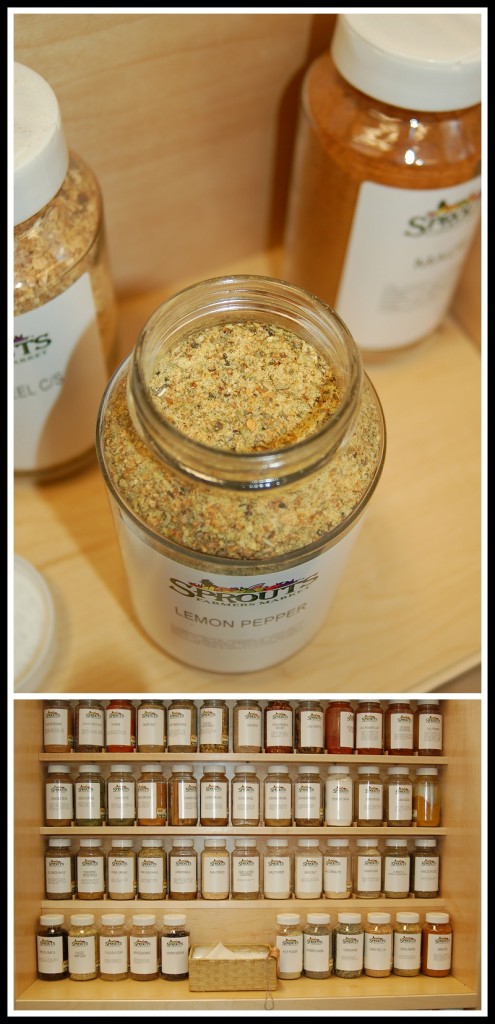 Have you ever only needed one little teaspoon of a spice, but you were forced to buy an entire jar that costs more and takes up precious pantry space?  Sprouts has the perfect solution with the store's Spice Bar! Measure out only what you need and you are on your way to a spicy and scrumptious recipe without the unnecessary extras.  Smart Sprouts!
The World of Wonderful Wines and Delicious Brews!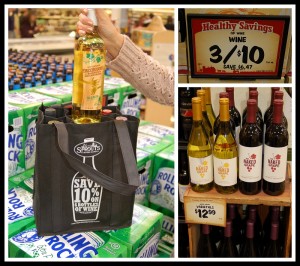 Do you like Vino and your signficant other likes beer?  The Sprouts Farmers Market beer and wine section offers both and at great prices!  I helped myself to a 6-pack of wine that enabled me to mix and match brands and varieties at 10% off.  Plus I especially liked the sign that advertised wine at 3 bottles for only $10.  I stocked up and I'm looking forward to sipping my new wine while my husband enjoys an ice cold brew.
I could truly go on and on about why I love shopping at Sprouts Farmers Market, but instead I'll stop here and give you a chance to win a $20 gift card to Sprouts!  Simply email your name and email address to [email protected] to be entered into the drawing.  We will do the drawing tomorrow at 9am and the winner's name will be posted at that time! So stay tuned and good luck!
And guess what???
We will also give away a second $20 Sprouts Farmers Market gift card this Friday in our weekly Freebie Friday drawing.  All of our managedmoms.com subscribers are automatically put into the weekly drawing every Friday!  We select the winner through random.org, so if you are a managedmoms.com subscriber, you are already in the drawing for Friday's gift card drawing!  If you are not a subscriber, simply subscribe to managedmoms.com.  It is that simple!  We will post Friday's winner this Friday morning, so good luck!  You have two chances to win this week!
Stay tuned for more articles about additional Sprouts products and recipe ideas that we will share soon. I had a blast shopping the Sprouts Farmers Market location on the Northeast corner of Tatum Blvd. and Cactus Rd. in Phoenix!  The store's new look also includes a new olive bar and soup bar, too.  Plus the employees were very knowledgeable about everything from fresh produce dinner ideas to vitamins to boost up your immune system.  Congratulations to this location on their 10-year anniversary!
To find your nearest Sprouts Farmers Market location, visit the Sprouts Farmers Market website.  And did I mention that I didn't leave the store empty-handed or hungry?  When I first arrived, I left my custom sandwich order at the deli and grabbed my tasty sandwich on the way out.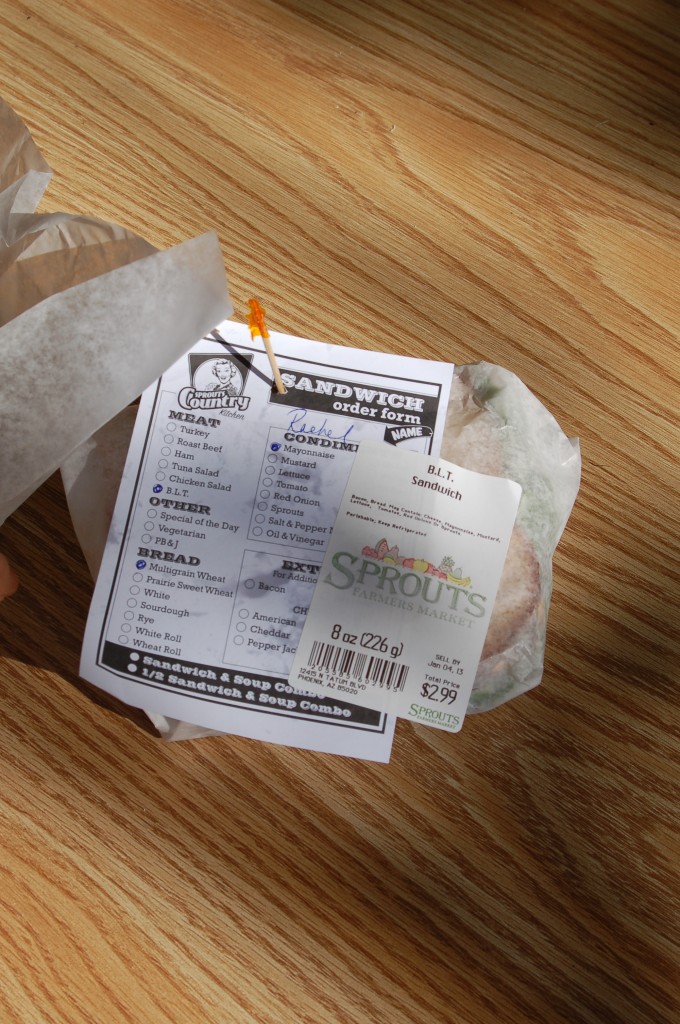 You can pretty much get it all at Sprouts Farmers Market!
No compensation was provided.  Two $20 gift cards were provided for the drawings done through random.org.  All opinions are 100% my own.