My Facebook memory page brought this article up today.  I wrote it three years ago when my girl was 11 years old.  Such a good parenting lesson to remember and to share again, especially for those of you with school-aged kids and tweens.  Ever had a parenting lesson that you learned from like this one….   
Manic:  Me trying to get my family to keep a tidy house!  Ugh!
Managed:  Taking a moment to see something special that was right in front of me….but I almost missed it. Thank goodness I decided to look past the clutter.  Read on parents, because there is truly a good lesson here and it was almost lost on me…
My tween daughter had been keeping a very nice, tidy and color coordinated room and I loved it!  A few weeks ago, she took it upon herself to change things around and I didn't like it.  I was greeted by her changes, which included a beat up old chalk board that hung crooked across her wall.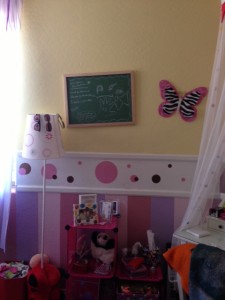 The wall had been filled with pretty framed pictures of her gal pals.  She moved the pictures to the back of her bathroom door, which I didn't love, but I told her that was a cute idea.  I have learned that with a daughter it is important to realize that she does model some of my habits (like hanging pictures, which I love to do), but that she also needs to be her own individual and come up with her own creative ideas.  So I decided that I would support her bathroom door hung gal pal pictures, but I was less eager to embrace the crooked chalkboard.  And do you know that an entire month went by before I stopped judging and stood still long enough to see the writing on the wall?! Just look at what that old crooked chalk board says….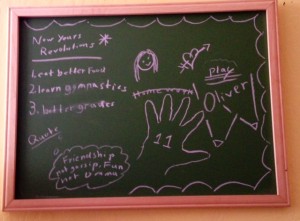 It says Oliver really big because she was preparing for her Oliver auditions at that time (and she is in rehearsals for that now).  It also lists New Years Resolutions:
1.  eat better food (I love this one)
2.  learn gymnastics
3.  better grades (she has made all As and only 1 B this year)
And at the the bottom it says:
Quote:
Friendship not gossip.  Fun not drama.
Later when she returned home, I asked her what the hand with the number 11 on it meant and she told me that this is her current hand size because she is 11 right now.  That makes sense and I love it because soon she will be too cool to do stuff like that.
So my lesson learned is that what I saw as clutter was actually her well thought out goals that she had made for herself.  At that moment, I was disappointed in myself that I hadn't noticed that right off the bat.  That I hadn't let myself see past the clutter.  And then I felt thankful that something made me stop my cleaning that day to just stand there and take a look at my daughter's creation.  I left feeling proud of her goal setting and the clutter didn't bother me a bit anymore.  Funny how that works.  Parenting is tricky and I love that I get to learn from my tween girl and my teen boy because sometimes it is about us learning from our kids.
And I told her that all As and one B was very good and to go easy on her perfectionist self 🙂