Manic:  My kids' inconsistent dental hygiene.  And now that they are older, I wish I would have done a few things differently when they were little when it comes to teaching them good dental habits.
Managed:  Inviting local dentist John Dougherty D.D.S., MAGD to share his tips that he says every parent should know.  And these tips may save you money in the future if you can avoid fillings and other dental work by being proactive, so read on…
Dr. Dougherty says:
Healthy Smile, Happy Child: Dental Tips Every Parent Should Know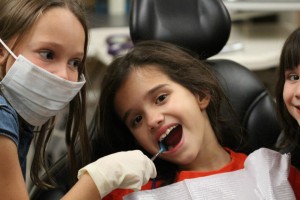 Getting your kids to brush their teeth can be as challenging as getting them to eat their veggies; and teaching them to floss, well that's a whole other challenge.
While most of us are focused on Valentine's Day during the month of February, many don't know that it is also National Children's Oral Health Month. In honor of both, I wanted to take this time to urge parents on the importance of teaching their children to maintain their pearly whites and learning how good daily preventive practices will help their children avoid more serious dental and health problems later in life. After all, what better way for a parent to demonstrate their love?
Healthy teeth and gums actually begin in infancy, before teeth start growing in. As a baby's teeth grow in, introducing good oral healthcare during childhood plays a key role in producing a strong and healthy smile throughout adulthood. While this may inspire your little ones, as a dentist and a father of two beautiful girls, I have a few tips that will help parents establish good dental care habits for their child:
From Day 1, infants can be introduced to good dental health by "finger brushing" to help stimulate the gums and then graduate them to a soft baby brush at the first signs of a tooth eruption.
When you start brushing your baby and toddler's teeth and gums, make it a fun activity, incorporating games and songs.
Use water and a small amount of toothpaste, so you don't overwhelm them with the strong flavor.
Introduce the dentist by two-and-a-half years by bringing your child to an appointment with mom, dad, or a sibling, and make going a "fun" experience.
Be aware and careful not to pass on dental fears from you or other family members.
By age three, book your child a "happy visit" with the dentist.  A happy visit includes as much as the child will allow – a ride in the chair, "counting the teeth"- exam, even a teeth "polish" – cleaning.  The key is working with your dentist to make it a positive experience.
Be aware that thumb sucking can and does create dental problems.  To avoid this issue, introduce a binky or pacifier instead, as they can be gradually taken away, but thumbs cannot.
If your child is still sucking their thumb or using a pacifier after the age of 2, talk to your pediatrician about how to wean.
Parents should help brush and floss their child's teeth twice a day up until about age 6. As your child begins to insist on doing it themselves, be sure to do your own "touch-up".
As baby teeth and molars grow in, begin using waxed floss or handheld flosser once a day, or as often as possible.
By the time they enter kindergarten make sure that you have established a routine of visiting the dentist twice a year and begin getting sealants to protect their teeth. Just like their well check-ups at the pediatrician, regular visits to the dentist serve as prevention, protecting your children from serious oral health issues.
If your child is apprehensive about going to the dentist, try reading stories like "The Berenstein Bears Visit the Dentist" by Jan Berenstein.
Establishing good habits with routine brushing, flossing and exams is vital to a child's future success with dental care.  Helping your child develop healthy teeth and gums also includes good nutritional habits:
For babies and young toddlers, only put milk, formula or water in their baby bottles– juices or sweetened drinks can cause damage – and never put them to bed with a bottle.
As they graduate to eating more on their own, provide low-carbohydrate snacks and try to avoid foods that are sweet and sticky, whenever possible.
An occasional sweet that is easy to rinse off such as a Hershey chocolate kiss is a good choice, and it is always best to follow sweets with water.
Keep your kids away from sugary chewing gum. Gum with xylitol has been proven to reduce bacteria in your mouth.  Spry gum is a good example, and is available at Sprouts Markets.
Make sure your child is drinking fluoridated water.  Phoenix and its municipalities have all added fluoride to their water to help with preventive dental care.  Any charcoal filtration device, such as a Brita Pitcher, will keep the water fluoridated, but a reverse osmosis systems will eliminate the fluoride.
Teaching children how to take care of their teeth and gums, and showing them that the dentist does not need to be a scary place can lead to lifetime of good oral health and beautiful smiles.
About our guest writer, Dr. John Dougherty: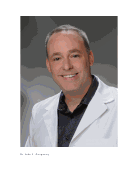 Dr. Dougherty has practiced dentistry in Arizona for almost 20 years and opened his own practice in Phoenix in 2000. To learn more about dental care and the services Artistic Dental at the Biltmore provides visit www.artisticd.com.