Since I am a huge fan of Sprouts Farmers Market, I was thrilled to be invited to get a sneak peek of a new store that is opening next week.  And keep reading because I'm giving away a Sprouts Farmers Market $50 gift card to one lucky winner and it is simple to enter!  I'll tell you how to enter in a minute.  But first, check out this new Sprouts Farmers Market location and the cool new stuff that is coming to this store and some future Sprouts stores, too!
A Sneak Peek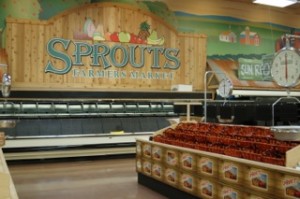 Managedmoms.com was invited into the new Sprouts Farmers Market that will open at 1625 E. Glendale Avenue in Phoenix next Wednesday, February 13th.  Store manager Steve Fernandez gave me a great tour of his new store.  A couple of cool things that will fill these empty shelves include:
*A scrumptious cheese island filled with a big variety of cheese samples.  Yum!
*Wild fish like salmon, deli meats that include the Boar's Head brand and many more options will soon fill this area below..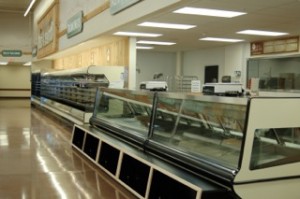 *Delicious daily soup options for lunch on the go, along with Sprout's made to order sandwiches.
*Plus all of your regular Sprouts favorites like the extensive bulk section, big bakery area and more.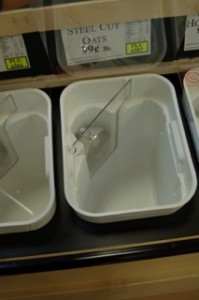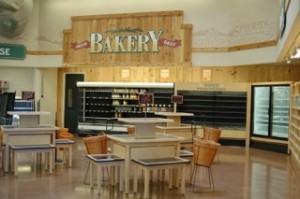 What's Different
*This particular Sprouts location houses taller shelves, so there will be more room for all of your favorite gourmet foods that Sprouts Farmers Market offers at reasonable prices.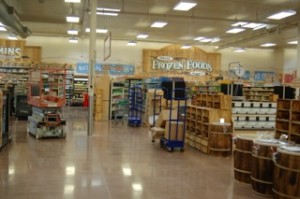 *Succulent sushi that is even made to order by a talented chef!  This is a new feature that this Sprouts is thrilled to offer.
And be sure to visit the new store to see some other new offerings next week.
My Favorite Finds
*I'm a big fan of the extensive and healthy Vitamins & Supplements section, but did you know that Sprouts also has great cosmetic lines in the Health & Body Care section?  Check out this line called No Miss Nail Polish that is Formaldehyde free, Toluene free and cruelty free.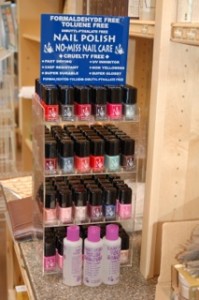 I love those features and I like all of the different shades that are offered.
*Books that are good for you.  This Sprouts location, like many others, offer books that are filled with healthy recipes, vegan cooking, gluten free ideas and much more.
*Fresh flowers that will be in abundance just in time for the grand opening, which is the day before Valentine's Day.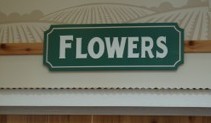 So you can come to this new Sprouts Farmers Market to shop, grab lunch and get flowers for your sweetheart all in one stop.  On opening day, there will be lots of beautiful bouquets to pick from that are fresh and fragrant.
I want to thank store manager, Steve Fernandez, for giving me this fun tour.  His energy is contagious and his staff is really excited to open up their new store to the public next Wednesday.  Steve tells me that folks have been knocking on the doors asking when opening day will take place.  The neighborhood is really happy to get their own Sprouts Farmers Market.  Steve has been in the grocery business since 1983 and he especially loves that Sprouts Farmers Market offers farm fresh produce right smack in the middle of the store, where it should be, as we all try to eat healthy and well balanced meals.  And shopping at Sprouts makes that affordable, too!
Steve has invited me back to experience the grand opening, so I will have more news about Sprouts Farmers Market next week, too.  In the meantime, as promised, here is your chance to win a $50 gift card to ANY Sprouts Farmers Market location….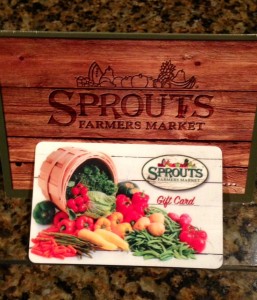 All you have to do is simply email your name and email address to [email protected] and you will be put in the drawing (winner selected through random.org).  The winner will be announced tomorrow morning at 9am, so hurry and email us your entry!  Good luck!  Must be 18 years or older to enter name in the drawing.  We will announce the winner on managedmoms.com tomorrow at 9am Arizona time.  Good luck!
No compensation was provided by Sprouts Farmers Market.  All opinions are my own.  One $50 gift card was provided to managedmoms.com to give to the winner of the drawing.  We thank Sprouts for that!