Meet One Eyed Willy….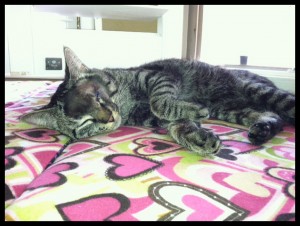 My friend, Jamie fosters cats and has been doing so for a while now (she is a very special woman indeed). She is experienced, compassionate and her supportive family have kept some of the felines that they have friended, while finding great homes for the other special cats that they have fostered.  This little boy is different from the others that Jamie has taken in.  Jamie shares Willy's story….
Jamie says:
I received a call from the Arizona Humane Society last weekend asking if I was able to foster. They had a list of available cats in need of a good foster home.  After they told me about the first kitty on the list, I knew that I wanted to help.  The cat was a stray, and he is about a year and a half old.  He had his right eye removed.  He seemed scared.  When I brought him home he wouldn't come out of his kennel.  He also had a cone on his head. When we finally got him out of the kennel he seemed very lost.  He stayed very low to the ground and tried to smell his way around the room.  He also wouldn't raise his tail which is very unusual for cats. I bathed him and held him in the towel so I could cuddle him and look him over while he was in my arms.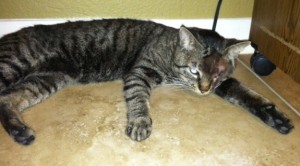 When I was holding him in the towel he was in bright sunlight and yet his pupil was so enlarged.  Then I noticed that he really couldn't find his way around the room.  He was banging into the walls and trying to find a safe place.  I gave him some food by mouth and he seemed so grateful.  I told them what I observed and they said that they try to find rescue groups for pets like him but I'd really love to find a safe, comfortable home for him.  Willy is special.  The information I received says that he had head trauma.  No animal deserves that abuse!!
Jamie is so right!  No animal deserves that!  We here at managedmoms are praying that Willy finds a good and loving home.  Jamie is really pulling for her Willy and we are, too!  If you are interested in learning more about Willy to consider adopting this sweet boy, please email me at [email protected] and I will put you in touch with Jamie and with the wonderful Willy.