One of our new subscribers (welcome Heather!) asked if she could share her story of hope and human spirit.  After she told me about her frightening diagnosis and journey to good health, all while being in the hard working days of raising an infant, I was moved and thanked her for wanting to share her story with us. Meet Heather Von St. James, wife to Cameron and mother to a beautiful 7-year-old daughter named Lily. Her story will inspire you and we celebrate Heather's good health, beautiful family and her fighting spirit today by sharing her journey.  Take a look…
Heather says:
How a New Mother Beat Mesothelioma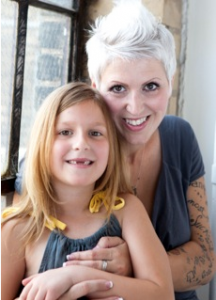 Unlike most 7-year-olds, my daughter is all too familiar with cancer.  When asked about this terrifying disease, she will calmly tell you, "I saved my mommy's life."  She gave me a reason to live and continue fighting no matter how difficult my battle with cancer was.
When my husband Cameron and I married, we were not in a rush to have children.  We figured that we have plenty of time, and we actually waited seven years before we started trying.  I was 35, and we determined that we were ready to become parents.  I didn't know how long it would take to conceive a child, but I had prepared myself that it might take some time.  I was stunned to discover I was pregnant after only three months.  I was so surprised that I actually took three pregnancy tests to confirm the news.  That's when it started sinking in.  We were actually going to become parents.  I was going to become a mother, and this tiny little baby would depend on Cameron and I for everything.  I had so many questions, fears and concerns.  Above it all, though, was excitement over the idea of finally becoming a mother.
Being pregnant was easy for me.  Lily was a joy to carry, and I didn't have any problems.  Things became a little frightening when it was time to deliver her.  She was breech, and that meant I had to have an emergency C-section.  While I was nervous, I'm also the type of person to see the positive in every situation.  Instead of being scared, I joked that she would have a round head.  She was absolutely perfect when she arrived, and I spent all my time just admiring her perfect little features.  I had so much I knew I wanted to share with her.  I wanted to teach her so much, and there were so many family traditions to pass down to her.  I had a million questions about how my life would change, but something would soon come along to occupy my time.
Lily was still a tiny baby when I went to the doctor and heard devastating news.  I was a new mother of a 3 ½-month-old little girl, I had my entire life waiting ahead of me, and the doctors were saying that I had malignant pleural mesothelioma.  I heard the doctor saying I only had 15 months to live, and then I started shutting down as the shock of it struck me.  To this day, I am so thankful that my husband Cameron was there to listen to the diagnosis and ask questions.  While I was still trying to digest the news, he was making important decisions regarding my care and treatment.  It would all start with my traveling to Boston to be treated by one of the top mesothelioma specialists in the world.  Lily couldn't come with me for treatments because I would not have the energy to care for her.  She would have to stay with my parents in South Dakota while I underwent a risky surgery, which removed my left lung along with the lining of my heart and diaphragm.  I spent 18 days in the hospital after surgery, followed by another 2 months of recovery before I started chemotherapy and radiation treatment.
This was a huge sacrifice for all of us.  As much as Cameron and I would miss Lily, we knew that she would also miss us.  However, it was a necessary step to ensure that I would be around to watch Lily grow, send her off to her first day of school and walk her down the aisle when she gets married.  I needed Lily, but I also knew that she was going to need me as she grew, and that's why I made the sacrifices and went through such aggressive treatments.
As time passes and my cancer remains in remission, I know that I am incredibly blessed.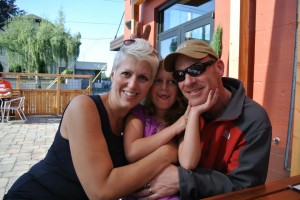 Only 5 percent of people with mesothelioma will survive, and it's an incredibly difficult journey.  I only had the strength to fight it because I was a mother and had a little girl depending on me.  I fought for her future as much as for my own life.  This is why my daughter is absolutely correct when she informs people that she saved my life.  It's because she truly did.
About our guest writer, Heather Von St. James: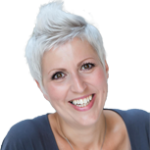 Heather Von St. James is a mesothelioma survivor and a guest blogger for the Mesothelioma Cancer Alliance.  Her story is one of hope and inspiration and she hopes to spread her meassage to anyone who may be going through similar situations to her own.  Check out Heather's story on the Mesothelioma Cancer Alliance Blog.