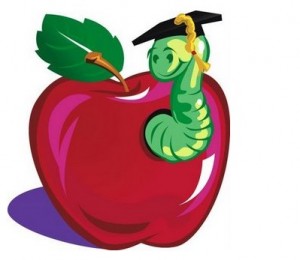 Manic:  Elementary school these last 12 years.  With my daughter finishing up grade school today and heading to middle school…and after my son's six years there as well, I can now say that grade school is done!  And it was good.  And it was manic because the start time of 7:40am was early.  And the many school activities filled our calendars and competed with my kids' other activities such as hockey and theatre.  And the pressure to do well on the AIMS test, achieve perfect attendance and more…whew!  I honestly don't remember grade school being so high pressure when I attended.  Was it?  Do I forget?
Managed:  Celebrating the baby of the family finishing up grade school and heading on to middle school.  She is so ready!  Today is her promotion ceremony and we are very proud of our girl.  I congratulate her on an amazing year with her huge achievement of finally bringing home a straight A report card.  She worked for that for the last two years since they don't give letter grades until the 4th grade.  She only missed one day of school and that was when the nurse called me at 8:15 am two weeks ago because the tummy flu got my girl.  She was never tardy, not one day.  So I give her a ton of credit.  You go girl!
But I must also give her teacher, Mr. Middleton a huge shout-out!  When you get a good teacher, a truly amazing leader who really invests himself (or herself) into the well being of the kids….who challenges them with projects that require the kids to think out of the box and when you find a teacher who truly gets your kid…the pros and the challenges of that particular personality…you just won the educational lottery.  Mr. Middleton and many of Lexi's teachers through the years at Sierra Elementary School served her well and I choose today, in this post, to say thank you!
Here are some highlights from this year and past years with examples of how a variety of our teachers went above and beyond.  I thank them.  Check these cool examples out…
This Year:
*Mr. Middleton was new to our school and we had heard through the grapevine that he was adored at his previous school.  From day one, Lexi came home excited about her energetic, humorous and creative new teacher who had big plans to get them beyond ready for middle school.  The first day matters and he set the tone just right.
*With every project, he made it interesting.  Instead of having kids write a bio, they took on a complete character with props, a costume and a presentation that all parents were invited to attend.  Alexis was thrilled and dove right into her biography report about Jane Goodall.  Here she is, all smiles, after her presentation….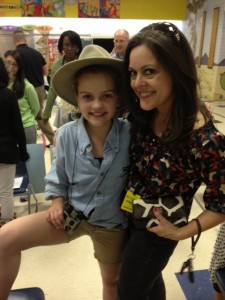 *When she had to learn about a state, she chose Kentucky and preparing a meal that related to that state was part of the project, so she was thrilled to learn that Kentucky Fried Chicken truly had ties to Kentucky.  She helped me to research a fried chicken recipe and we worked together to make it from scratch.  She truly did most of the work and she was very proud of the finished dish, which she took to school as part of her report.  I must tell you that this Skillet Fried Chicken recipe is the best that I've ever had, so try this recipe that calls for buttermilk, cayenne pepper, garlic and other yummy ingredients.  Again, Mr. Middleton's creative ideas made learning and presenting really fun for Lexi.  Here is a picture of that yummy chicken frying away in peanut oil…definitely an indulgence that was worth the educational calories.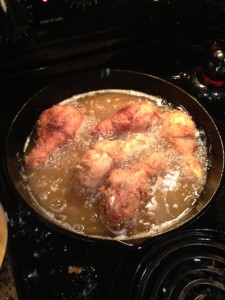 *Mr. M. held early morning prep workshops for kids that wanted a little extra help preparing for AIMS testing.  I couldn't believe it when my girl was up and at em at 6am because she didn't want to miss it.  He also offered math workshops and she participated in some of those after-school events, too.
*With every extracurricular activity, Lexi's teacher cheered her on, wished her luck, congratulated her and attended her "Christmas Carol" show at the Ahwatukee Children's Theatre.  She was beaming with pride when she spotted her teacher in the packed audience.
*Mr. M. was fair and gave us honest and helpful advice at her parent teacher conference about topics that included her perfectionism and whether or not to place her in honors middle school classes.  He was careful to ask if we were interested in his advice and we found it so valuable.  It takes a village and to get his perspective balanced with ours is a real advantage for our focused daughter, who at times puts too much pressure on herself.  Mr. Middleton is one of those teachers that goes above and beyond and Alexis will never forget him.  She has told us so.  Thank you Mr. Middleton.
I could truly go on and on, but I want to also mention a few other highlights from our years with some amazing teachers.
*In Kindergarten, wonderful Mrs. Willis identified Alexis' perfectionism right away and worked with us to devise a plan to help her manage the big goals that she puts on herself.  She had a rule that Lexi could only start over once.  She also discovered that our little girl was musical, so she incorporated a solo by Lexi into a school program that taught language arts skills.  Confidence and stage presence was born that day and our girl has never looked back since.
Both of my kids (and hubs and I, too) adore Michelle Willis and we will never forgot the gift that she has been in our lives.
*Lexi's 1st grade teacher, the amazing Holly Martin, helped Lexi with some challenging social skills that year when it came to ignoring the mean actions of others and taking the high road.  Academically Lex loved learning from Holly Martin, too….just as our son had years earlier.
*Her 2nd grade teacher told us that our girl was a bit behind in the reading department, but she was careful to never the use word "behind" with our girl.  Instead she challenged her to read more, talked her into attending a special reading class and encouraged her to the fullest.  When Lexi left Ms Carmichal's class and started a very academically challenging 4th grade year, her reading was up to par.
These are just a few examples.   I have many more.  Teachers work in a job where they make a difference every single day and when they are good…the opportunities for your child to thrive are endless.  From our incredible Kindergarten teacher Michelle Willis to this year's highly adored and amazing 5th grade Mr. Middleton….I can't thank you enough for leaving your mark and making a difference in the lives of my most prized possession….my kiddos!
Cheers to the teachers 🙂