Manic:  Seconds after checking into the Disneyland Hotel, discovering that my kid needed to go to an Urgent Care pronto!
Managed:  Read on to see how our mother-daughter Disneyland trip turned into a mother-daughter tale of illness, an urgent care run, a children's hospital visit and more….and read on to see how we handled it and got about half of our trip money back!  There are definitely a few lessons learned here and a few helpful travel tips in our tale.  First here is the story and then I've got a few tips on what to do ahead of time in case this ever happens to you, so that you are prepared and so that you don't lose a lot of the money that you spend when a Disney package is booked…
Our Unexpected Story: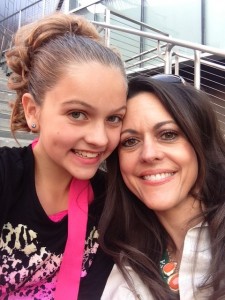 To celebrate my girl's straight A report card and grade school graduation, we planned a last minute trip to Disneyland.  Since we were to already be in the LA area for my daughter's amazing show choir competition and trip (that fun post is coming), we decided that we would stay four extra days for some Disneyland and California Adventure Theme Park fun.  We never made it to either park.
Instead we spent our first day in a nearby urgent care facility, followed by a trip to a local pharmacy for the antibiotics that were prescribed for the urgent care's diagnosis of Tonsillitis.
That night and the following day we stayed holed up in our hotel room with orders of chicken noodle soup and my frequent runs to the downstairs gift shop for items that included a thermometer, children's Advil, ginger ale and anything else that might give my girl comfort.  The pretty bed that lights up with an illustration of Disney fireworks made her smile and that was a good thing because her entire trip was spent in that bed and in medical facilities.
Although we had a nice view of Downtown Disney right out of our hotel window, neither one of us desired a Disneyland visit at that point.
I craved sleep and my girl longed to be out of pain.  Even the Advil wasn't doing much to calm her burning throat.  Urgent care had tested her for Strep, but the culture came back negative.  So all we could do was take the antibiotic and wait it out.  She was able to sleep some of the time, but she mostly tossed and turned in pain.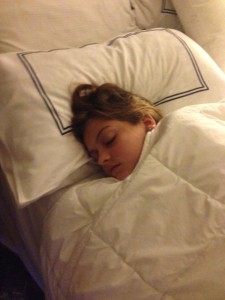 She was much too ill to travel home at this point.
The Walt Disney Hotel was terrific and full of compassionate employees.  Having witnessed her tears at check-in and our quick run to grab a cab, they gave her a signed Mickey Mouse picture in an envelope that was stamped "Get Well" and later that day, they sent up a free DVD movie and a Mickey Mouse doll with more get well wishes.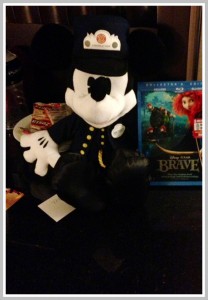 That made us both smile.  Our room also gave us a nice nightly view of the Disneyland fireworks show, so the bright lights in the sky made us smile again when the stunning show lit up the night sky around 9pm that evening.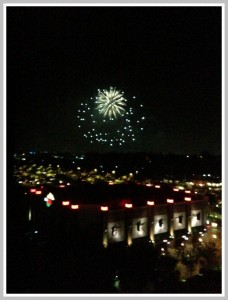 So we finished watching the fireworks in our robes and then I gave my girl a night dose of Advil and off to bed we went, but sadly we were up at 4am and she was in extreme pain.  Running the shower helped because the steam felt good to her, but not much more could give her relief.  She was such a trooper, never once complaining.  Her only concern was that she was worried that I was going to get this mean virus, but thankfully, I never did catch it.
My wonderful mother-in-law (who is also a very gifted nurse) had been on the phone with me frequently and she recommended that I alternate Tylenol with the Advil, but wouldn't you know, no Children's Tylenol could be found anywhere on the Disneyland Hotel property!  The nice staff worked hard to find us a delivery service and several hours later, one was found.  So I advise that if you go to the Disneyland Hotel, make sure you have any potential meds on hand that you may need.
By that afternoon, she was so sick that I found her lying on the bathroom floor, a little lethargic and in complete pain.  I was getting quite concerned at this point.  Because I was posting our situation on Facebook, our many supportive friends were following our story, cheering us on with well wishes and leaving comments with advice.  It was the comment left by my friend, Kelly that had me dialing our doctor back home.  Why hadn't I thought of that?!
Once my doctor's nurse called me back, she could hear my girl in the background.  The scary coughing sounds alarmed her enough to recommend that we go straight to an ER, not an urgent care.  My next call was to my mother-in-law who calmed me down and recommended a visit to a local children's hospital.  The next Facebook comment,  from my friend Melissa, recommended the chidlren's hospital in Orange County, so off we went.  At this point, my poor girl was not only in constant pain, but could keep nothing down as well, so I worried about her becoming dehydrated.
As we passed Goofy and other characters in the hotel hallways, I felt like I was in the Twilight Zone and not Disneyland.
As soon as we arrived at the Orange County Children's Hospital, I knew that we were in good hands.  The kind staff took my girl immediately back to triage and I soon followed.  After three thorough examinations by the nurse, nurse practitioner and the physician, it was determined that she was quite ill with a pretty bad virus.  Since it was a virus, they had us stop the antibiotics that the local urgent care had put her on and they gave her some pretty amazing and strong painkillers.  She had tearfully (and quietly as she had no voice left) rated her pain a 9…and this is a kid who doesn't mind shots, so she has a high tolerance for pain.  Once she finally fell into a deep sleep (which hadn't happened in two days) they let us stay in the room and they walked me to their hospital pharmacy to obtain more painkillers and an inhaler (that was needed since the doctor could hear wheezing).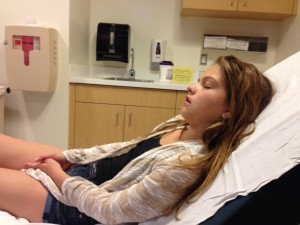 Several hours later, they surprised us by paying our cab fare back to the hotel.  That was so nice!  They also gave my girl jello, crackers and Gatorade.  Unfortunately, she wasn't able to keep that down, but at least she was finally out of pain.
Back in our hotel room, she told me that she felt like steak.  That was her body craving the sodium that it needed since she hadn't been able to keep anything down and had been so feverish.   So we ordered room service and settled in for another night of living in our hotel room 24/7.
The Disney Hotel doesn't offer movies for purchase on the TVs since they want to keep all movies G-rated and that would be impossible to do with an in room movie order service.  Although that was frustrating since we were trapped in our room by this pesky virus, I'm sure it saved us quite a bit of money since we would have been buying movies to pass the time and get her mind off of her pain.  So we had no choice but to watch the tourist channel that shows all of the fun rides and theme park attractions that we were missing. When my girl looked at me and told me in a quite whisper that none of that even looked fun, I agreed and decided that if she was up to it, we would fly home a day early the next day.
Just before bed, I received such a lovely surprise! Since I had decided to share our daily illness journey on my Facebook page, one of our amazing theatre families, the Lanouettes had been following our story and decided to send us a sweet gift.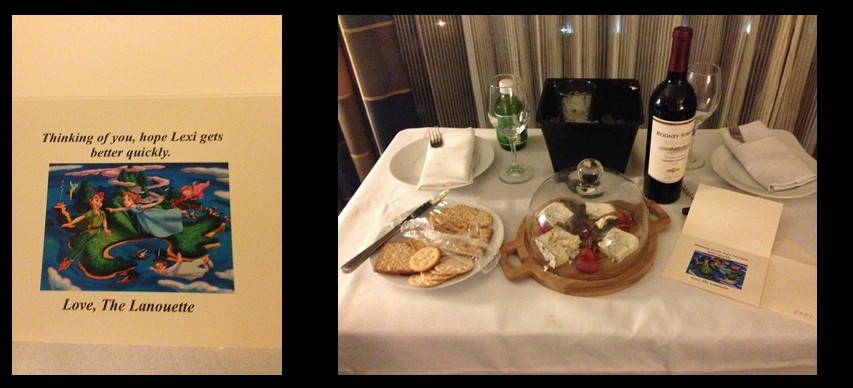 They called the hotel from Arizona to have a beautiful platter of scrumptious cheese selections, crackers, olives, yummy walnuts and a beautiful bottle of red wine sent to our room to cheer  us up.  That definitely lifted our spirits!
Even though we were up again most of the night, sitting in the hotel bathroom to get the shower steam for my daughter's congested chest, we both felt strong enough to make the journey home the next day.  Since our flight is only one hour long, we decided that home sweet home is where we wanted to be.  You know your kid is sick when she tells you that she doesn't want to stay extra days to recover and then do Disneyland….she just wanted to go home, bless her heart.
So home we went!  It broke my heart to see my girl finally break down in tears when she reached her Daddy's arms back in Phoenix.  She had truly kept it together, both in LA and on the journey home.
Today we have been home for two days and she is better, but she isn't completely healed yet.  This virus, that she picked up on the streets of Hollywood (since we had been there for 5 days first) really did a number on her immune system, so I am grateful for the excellent Orange County Children's Hospital ER that took such good care of her.  Now that you have read our crazy story, here are a few things that we did right and some things we learned to do better when planning future travel.  And if you ever plan to go to Disneyland with your family, read these tips to prepare for the unexpected…
Our Lessons Learned & What We Did Right:
*My first lesson learned is to think long and hard about overbooking my child when it comes to planning future travel,  We had just come off a very busy school year end with the completion of a huge project that kept her busy until the due date, intense rehearsals as we neared the show choir competition date and a week full of graduation celebrations and visiting family.  Three days later we boarded a bus with 17 other singing middle schoolers bound for Hollywood.  Hollywood was a huge success and the 5-day experience was packed with performances, museum and studio tours, a dance workshop and more.  My kid was a busy bee from sunrise to sunset and yet I planned for us to keep on going once the show choir portion of the trip ended.  The next time around, I will take it one trip at a time and I will consider what her calendar looks like the weeks before the big departure.  In other words, rest before you go even though you will be busy packing, celebrating and organizing.  Plan some down time before departure time. 
*Buy travel insurance!  This is a big one!  If I would have purchased the $50 travel insurance package, I would have got all of my Disney money back.  Fortunately, I did get our $500 3-day park hopper for two ticket package back because the front desk literally witnessed my girl being rushed to Urgent Care moments after we checked in.  Be aware that they are usually nonrefundable, so keep that in mind.  I was also able to persuade the Disneyland Hotel to refund our last night's stay that we didn't keep, since we flew home early. After a lengthy phone call to the Disney travel department and a lot of begging on my part, they did refund our last night's stay and we made sure that we were checked out by noon, so they could rebook the room.  The supervisor I spoke with told me that they rarely refund any part of the Disneyland Hotel package and that I was quite lucky that I was getting anything back.  I promised her that I would spread the word to buy travel insurance and the next time we purchase a Disney package, I will be buying the travel insurance!
*If you are going to Disneyland in LA,  fly in and out of Orange County.  I say this because I can't tell you how grateful I was that I paid a little bit extra to travel out of Orange County because it is only a 20 minute cab ride (in good traffic) from Disneyland.  The airport is also very nice, not congested and easy to get around in and since my girl was so washed out by the time we went home, that calm environment was what we needed to keep on going to finally get us home.
*Pack a kids sick kit!  Fortunately, the hotel gift shop had children's Advil and a thermometer, but children's Tylenol was no where to be found on the property.  Since it was just the two of us, I was NOT leaving her behind on the property to cab it over to a local pharmacy to get some Tylenol.   Fortunately and finally (this took several hours), the helpful hotel employees did find us a delivery service that brought the Tylenol and some Gatorade (also not sold on the property) to our hotel.  Advil can be rough on a sick tummy, so needing to alternate to Tylenol was crucial during one stage of her illness.
*If staying at a Disneyland Hotel, bring DVD movies from home.  As I mentioned, our hotel had no in room movie service, so I sure wished I would have packed some DVD movies.  Even healthy kids need some down time from all of the Disney excitement, so pack some movies for your room's DVD player, which is provided.  You will be especially glad that you did if you end up with a sick kid while on your trip.
*The minute you know your kid is sick, tell the hotel.  I was glad that the front desk knew right away because they were understanding about my refund requests, they were helpful providing me with nearby urgent care, hospital and pharmacy locations and they sent my girl several sweet surprises during our sick room stay.
*Use Facebook!  I decided early on to share our daily experience on my private Facebook page because we had just left my girl's show choir group and they wanted to know how she was doing.  It also kept me connected and calm as the hours trapped in our hotel room by the illness waned on and hours turned into days.  And the best surprise was the overwhelming amount of support, well wishes and encouraging words shared on my page that truly kept me going.  Plus I got some very helpful advice from friends who were following along and wanted to help.  My friend, Kelly urged me to call our doctor back home and I hadn't thought of that.  Making that call is what told me that my girl needed to get to the ER.  Another friend, Melissa let me know that the Orange County Children's Hospital was a terrific place to go and that made our decision on where to go easy when it came to grabbing a cab and getting to the ER.
So that is my tale and those are my trip tips when a vacation goes bad!  Do you have any crazy travel stories?  What are your best tips?  Share in the comments section.  Boy, is it good to be home 🙂