Manic:  Me last week trying to find the one pot no boil pasta recipe that I had seen on the Getting Healthy Staying Healthy  Facebook page.
Managed:  Found it, saved it to my page and tried one night last week when we were rushed for time….and it works and tastes great!  All ingredients are put into one pot and then cooked, without having to boil the linguine first.  The result was tasty and everyone loved this dish.  Check this out and the next time you need an easy and quick recipe, make this one pot pasta dish your go to meal.  Here is the recipe…
What You Need: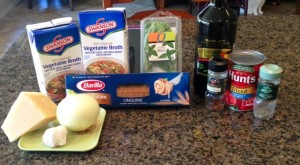 Linguine (I used whole grain for a healthier option)
1  can (15 ounces) diced tomatoes with liquid ( I used Hunt's Rosemary & Oregano flavor)
1 large onion, cut in julienne strips
4 cloves garlic, thinly sliced
1/2 teaspoon red pepper flakes
2 teaspoons dried oregano leaves
2 large sprigs basil, chopped
4 1/2 cups vegetable broth (regular broth and NOT low sodium)
2 tablespoons extra virgin olive oil
Parmesan cheese for garnish…I grated mine for an extra fresh texture and my family loved that
What You Do:
1.  Place pasta, tomatoes, onion, garlic, basil, in a large pot. Next pour in vegetable broth. Sprinkle the pepper flakes and oregano on top.  Then drizzle the top with oil.  So easy!
2.  Cover pot and bring to a boil.
3.  Reduce to a low simmer and keep covered and cook for 10 minutes, stirring every 2 minutes or so. Cook until almost all liquid has evaporated and leave about an inch of liquid in the bottom of the pot or you can reduce as desired.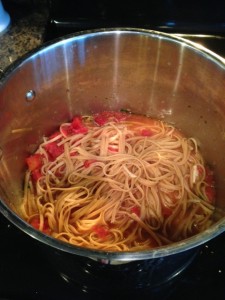 4.  Season to taste with salt and pepper , stirring pasta several times to distribute the liquid in the bottom of the pot. Serve garnished with freshly grated Parmesan cheese.
This dish was so easy and it was a complete hit.  I love the one pot cooks it all concept.  This has been filed under my family faves that can be made quickly and easily.  What would you add this to dish?  I'm looking forward to trying more variations.  I'm thinking of adding some spinach next time.  Shrimp would be good in this, too.  What would you add to this easy and awesome dish?  Tell us in the comments section and happy easy cooking!