Do what your pets do this lazy Sunday and take a cat nap or a pooch snooze.  Our three fancy free felines know how to do it right.  A good cat nap can work anywhere….on a desk, in Mama's arms (in Lucy's case) or all tucked in like Tucker…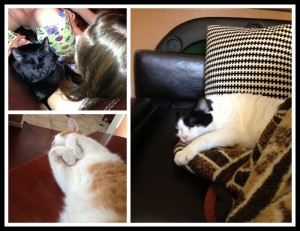 So cute and cozy!  We always laugh that Lucy's little face seems to disappear when her eyes are closed because she is solid black.
Send us your pet pics.  We love to get them and post them every weekend for a smile and a reminder to spend time playing…or napping with our precious pets.