Manic:  Ahhh so nice….hasn't been too manic these last two weeks.  This is the beautiful calm before the storm; the last few weeks before school starts and our schedules go crazy again.  So nice!
Managed:  Taking the time to really enjoy my kiddos and with my teenaged son spending so much time with me this summer to log driving time with his permit, we have been going out to lunch a few times a week. Such a treat, but I don't want to break the bank or loosen my belt since I have been keeping my usual seasonal weight gain off this summer, so we try to pick our places to eat out wisely.  Here are our picks for better food, good prices and excellent customer service….
*Rumbi Island Grill — I experienced top notch, above and beyond customer service there yesterday and these days, that is not always the case.  My favorite menu item at Rumbi Island Grill is the Fire Island Noodle Bowl because it is spicy and I can ask that lots of veggies be put in my dish.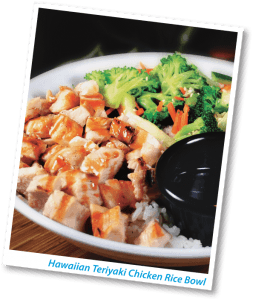 I thought that the entree was once a regular menu item, but this summer it is a weekly special.  When my kids and I went into our local Chandler Rumbi yesterday, one of the employees named Dago heard my disappointment when the cashier told me that it was only on the menu on Wednesdays.  Dago came over and told me that he would make me something similar and that I could  mix soy sauce and Sriracha together once my dish came out to mimic the dish that I wanted.  I agreed to give that a try and I thanked him.  To my surprise, several minutes later he brought out my dish with my special Fire Island sauce already mixed and placed on the side, even though it wasn't Wednesday.  Most restaurants would have told me too bad and been annoyed by my complaining that the weekly special isn't a regular menu item, but the folks at Rumbi listened to my feedback and went ahead and made me my beloved Rumbi favorite.  I was impressed!  Every time we have visited Rumbi, it has been a good experience.
And my favorite splurge item are their sweet potatoes fries.  The next time you visit Rumbi, you have got to try those for sure!  I also like that Rumbi has some healthier options on their menu like a rice bowl that you can customize with organic tofu, veggies and brown rice.  I also noticed that one of the higher level managers named Eunice was there making sure that each table was spotless and that customers were satisfied.  Kudos to Rumbi.  Our family will be back soon!


*Pei Wei Asian Diner — Pei Wei Asian Diner has the perfect menu item for a mom that wants to dine out with the kids but not gain restaurant food weight.  Have you tried the Vietnamese Chicken Salad Rolls?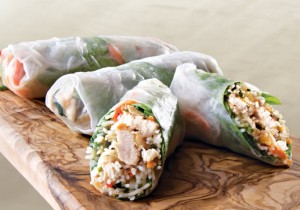 If not, try them!  This salad dish fills me up and only sets me back 480 calories (serving of three rolls and each roll is 160 calories a piece).  They are delicious and are wrapped in edible rice paper that is filled with chicken, butter lettuce, cabbage, mint, carrots, scallions, peanuts, rice noodles, sweet chile sauce and lime vinaigrette.  The rolls come with a side of peanut sauce, but I pass on that to save on calories and I think that they are flavorful enough to eat without the sauce.
I also like coming to Pei Wei because my daughter eats the edamame (a much better option that a bag of fries somewhere else) and my son orders the Japanese Teriyaki  with brown rice.  And did I mention that they serve wine and beer for the parents?  That is an added bonus!
*Sweet Tomatoes — Sweet Tomatoes is my girl's #1 favorite and she swears that their Chicken Caesar Salad is the best in the world.  I like that my kids fill their plates with lots of salad and that the lettuce offered is the good stuff, not the iceberg variety.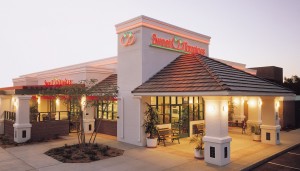 Eating here will add up cost-wise, but that is because you get unlimited trips to the salad bar, soup bar, pasta bar and more.  I do have to be careful not to overindulge because of that issue since I count my daily calories.  Look for coupons in the Sunday paper to save money on this tasty restaurant.  I think that Sweet Tomatoes beats the pants off other soup and salad bars for the quality, freshness and attentive customer service.
*Genghis Grill — Genghis Grill is a tasty Mongolian stir fry eatery that lets you build your own rice or pasta bowl and then it is cooked in front of you on an open fire grill.  This is another good option for our family because I have been pleasantly surprised to see my girl fill her customized bowl with tofu and lots of veggies.  She isn't a regular tofu eater, but she loves it here mixed with veggies, noodles and teriyaki  sauce.  I like that the restaurant now offers rice noodles since I am sensitive to yeast that is found in traditional pasta noodles.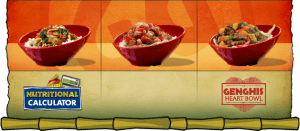 Genghis offers lots of protein, veggie and sauce options so you can try something different each time you visit.
I also discovered information about Genghis Heart Healthy Bowls on their website that says this…
In January 2008, Genghis Grill teamed up with Medical City Hospital in Dallas, TX to create the Heart Healthy Bowl Program. This program helps each fan create a bowl for them that is both healthy and delicious. To meet the criteria for the program, Genghis Grill had its recipes analyzed by a registered dietitian brought in by Medical City Hospital. Each ingredient in the recipe was checked based on dietary guidelines from the American Heart Association. Following these guidelines, each ingredient has levels of calories, total fat, saturated fat, fiber and sodium. Trans fats are not permitted in any of the recipes endorsed by the program. Since Genghis Grill has a food bar (Khan's Kitchen) featuring an array of ingredients, a unique sticker system was created so customers can identify ingredients that are part of the Heart Healthy recipe and build their Heart Healthy bowl. Every quarter Genghis Grill features a new heart healthy recipe. Make sure to look for the newest heart healthy bowl recipe inside the red heart holders, located next to the recipe cards.
I copied that from the Genghis website and I think that is pretty cool.
What is your favorite pick for dining out with the family when you want to treat yourself, but not go overboard with unhealthy choices and a big restaurant bill?  Share in the comments section and enjoy a nice meal out soon.  Do it now before life gets insane again with school, extracurricular activities, cold and flu season and the holidays!  Ugh….just made myself feel stressed out just thinking about all of that.  Maybe I will take my kids out to lunch today to relax and enjoy these last few weeks!