Believe it or not, we actually saved money flying home in first class a few days ago.  We also figured out how to get a free room upgrade at our hotel, get a few rental car fees waived and we were able to enjoy a late checkout, too.  Read on to see how we saved money on some very nice extras on our recent trip to Texas.  I also tell you about some unexpected fees so that you will know to look out for these extra charges the next time you fly.

Airline Savings Ideas & Surprising Fees to Know About Ahead of Time: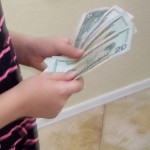 One thing we do every year is save up our membership awards points on our American Express card.  We redeem them every summer for our airfare.  We usually travel with these points on either Southwest Airlines or on US Air.  This year we took US Air and we were able to get three of our four tickets paid for with our AMEX points that are converted into frequent flyer miles.  Be warned though….it wasn't exactly free!
AMEX has a ticketing charge of $39.00 per passenger so we still paid  $156 in fees for tickets that we thought would be free.  Since three of our four tickets would have been over $1,000 (tickets were $436.80 a piece), then the $156 is still a lot less, but just be aware when you are trading in travel points that you may still incur ticketing fees, so remember to budget for unforeseen fees.
To lower your airfare price search, always book as much in advance as you can and travel on the airline's slowest days, which tend to fall on Saturdays and Tuesdays.  You will usually pay more if you book on a Friday, Sunday or Monday which are usually high traffic days.
The other fee that will get you are the bag fees.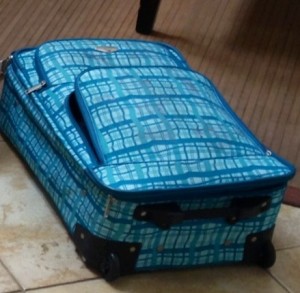 Flying Southwest Airlines (SWA)  is definitely a big advantage when it comes to saving on bag fees because SWA lets you check your first and second bags for free.  Most other airlines have made bag fees for all checked bags the norm, so it is nice that Southwest stands out with this free suitcase (first two) standard. Since we flew US Air, we had to pay for our bags.  And the way US Air charges you for your bags is tricky, so make sure you understand how that works ahead of time.  I explain that in the next paragraph, so keep on reading because knowing these tips may save you some unexpected travel charges that can really add up and take you by surprise.
So now our "free" tickets not only included the $39 AMEX ticketing fee, but we also had to pay a fee per bag and the US Airways baggage fee goes up with every bag.  So my husband's first bag cost $25 and then his golf bag cost us $35.  Next my son's first bag was also $25 and his golf bag was also an additional $35. My daughter's suitcase was $25 and you probably think that my bag was $25, but are you ready for this?!  My bag set us back $90!  I purchased a bigger rollaway a few years ago and I love it because I can get everything in one bag, including my laptop.  My dressy dresses for nights out on our trip, my shoes, swimsuits, clothing, makeup bags, blow dryer, curling iron and more.  Well US Air calls that an oversized bag and boy did we pay for it.  So our checked bag total was a whopping $235.00!  Wow, so much for flying for free!
There are also some surprising inflight fees.  Even a bag of chips cost us money.  No more free peanuts in coach!  I paid $4 to eat a snack called Late July Organic Sea Salt Multigrain Chips & Zesty Tomato Salsa and I paired that with a $8 Mojito (it was yummy at least).  We had been looking forward to flying on a plane equipped with WiFi, but we didn't use it because that cost money, too.
So beware of the many fees before you travel.  To save on bag fees fly on Southwest Airlines or pack light and remember it is not $25 a bag on US Air because the price goes up with each bag.  It is $25 for the first bag, $35 for the second checked bag (per passenger), $125 for the 3rd checked bag and $200 for the 4th through 9th bag.  That can really add up.   This helps to explain why flying first class on our way home actually saved us money, but you have to know how to do this to get the savings.  Here is how we did that….
Our First Class Savings:
Booking in 1st class to begin with is not the way to do it.  That will cost you a pretty penny.  With US Air, if first class seats are available the day before travel when you log on to print your boarding passes, it may be a savings to upgrade. For us it was a savings.  When we compared the upgrade fee of $200 for all 4 of our to fly first class home from Austin to Phoenix, it ended up being less than what we would have paid in checked baggage fees because our bags went free since we were flying in 1st class.  So, believe it or not, we came out ahead and got to fly 1st class on our return trip.  Our bags would have cost $235.00 due to my oversized bag and our two golf bags, too, so the $200 upgrade fee to fly 1st class was less.  Plus all food and drink are free in 1st class.  WiFi still wasn't comped, even in 1st class, so we once again declined that service.
Hard to believe that we saved money flying 1st class home!  So the tip is to check the first class availability the day before your travel and then compare the upgrade fee to your family's bag fees.  Since the airline wants to sell those seats, they entice customers the day before with the 1st class perks that may actually save you money, like no checked bag fees and free inflight food and drink.  It makes sense because then the airline can move us up to 1st class and sell our four coach seats to someone else, therefore filling the flight and making a little extra with the 1st class fees.  It is all economics that are considered the day before and day of a flight when the capacity is looked at by the airline, so check it yourself when you fly, too.  The four of us sat in the very first row and it was definitely a nice ride home.
Potential Hotel Savings:

To save in this area, check AAA and check your credit card travel perks.  For us, using our American Express card to book an American Express Fine Hotels & Resorts package provides a free room upgrade, a $100 resort credit, free breakfast every morning and a late checkout.  Since we were only staying two nights in a hotel and the rest of our 7-day trip at our relatives' homes, hubs let us stay at the very nice Four Seasons Resort in Las Colinas, which is pretty close to the DFW airport.
With our AMEX package, we were able to upgrade to a suite at no extra charge, we enjoyed free breakfast every day, we cashed in the $100 credit on a round of golf for hubs and our son and we didn't have to check out until 4pm.  Super nice for sure.
Another way to stay in a luxury room at a cut-rate price, is to come to Phoenix in the summer.  Since it is slow here in our hot off-season, resorts slash prices during the summer months.  For example, see my review of The Arizona Grand Resort & Spa because they have rates as low as $124 per night for a family of 4.  During our peak season, which is October through April, the rooms are triple that, so if you can endure our summer heat, book a Phoenix or Scottsdale  resort stay and enjoy luxury accommodations on a budget.
Rental Car Rates:
We booked with Hertz and we expected to pay a few extra fees because we would pick up our vehicle in Dallas, but leave it at the Austin Hertz, so rental car agencies charge you extra when your pick-up city is different from your return city.  Beware if you rent a SUV (we did due to our golf bags and luggage needs), you may get a smaller Crossover and yet be charged the price of a SUV.  That happened to us and I didn't want to hassle with it at the airport, plus we were meeting friends, so we had to be on our way.  I decided to deal that that issue the next day.  The cool thing about this is that our hotel actually has a marketing agreement with Hertz (thankfully one of the Four Seasons employees let me in on that), so the next day, the hotel completely handled everything for us from the car exchange to the changes and they were able to get us a discount and get the different city drop/off – return fee waived.  So definitely find out ahead of time if your hotel has rental car agreements.  If so, chances are you won't even have to deal with the rental car lines at the airport as it can all be done on site at your hotel.
So on this trip, I learned:
*to beware of extra fees even when cashing in free miles on tickets (budget for that)
*know the baggage fees ahead of time and pack appropriately or fly Southwest Airlines for checked bags savings
*know that on most airlines, you will pay for everything on board, even pretzels now, so pack your own snacks
*check available seating the day before departure and see if upgrading to 1st class if available is a cost savings…you never know as they want to sell those seats.  Trading in your coach seats also enables the airline to sell those coach seats and get your upgrade money.  $200 for the 4 of us to all sit together in 1st class wasn't as much as I thought it was going to cost and since it ended up being less than our bag fees, that worked for us.
*check with AAA and your credit card company to see about hotel package savings
*consider coming to a Phoenix or Scottsdale resort in the summer to get cut rate pricing on fancy rooms
*see if your hotel has a rental car agreement
Here's hoping some of these travel tips will save you money on your next trip and enable you to enjoy a little luxury on a budget.  I was surprised how well this worked out for our family.  Happy travels!