A big thank you to all of you that have sent in pet pictures for our weekly pet pic day every weekend.  I just love getting them and today's picture breaks and warms my heart all in one because these cutie pies were saved after being left in a dumpster!  Such cruel people in the world, but thank goodness the good people triumph over the bad ones.  Meet Violet and Dasher and read on to see their sweet story that my awesome Aunt Janette shared with me….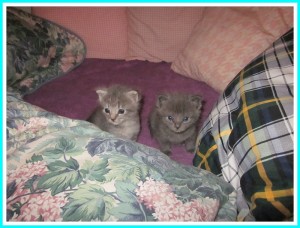 Here is their story told by my Aunt Janette (my hero in this tale of two sweet kitties)….
Two tiny kittens found in a dumpster at Ft. Meade, MD were rescued and brought to our house.  We bottle-fed them and kept them for about three weeks until we were lucky enough to find a great home for them.  A wonderful family with two little girls adopted them and still send me photos via email.  This photo was taken in early May…they are now approximately  2.5 months old—and I'm still getting cute photos from their adoptive family via email.  The girls named them "Violet" (gentle dark gray girl kitty) and "Dasher" (the rambunctious light gray boy kitty).
Thank you Aunt Janette for sharing this!  A huge Hip Hip hooray goes out to the folks that pulled them out of the dumpster, my Auntie for caring for them and finding them a good home and to the sweet family that have given them their forever home.
I just love happy endings, especially when it comes to our trusting and defenseless animals.  Do you have a pet rescue story?  Tell us about it and/or send us your cute pet picture.  Email to [email protected]
Have a great weekend everyone 🙂