Happy Halloween!  One of our managedmoms.com subscribers (also my cool cousin), Bridget Shaw from Maryland, sent us these fun pictures of what they did for their big Halloween party.  I wasn't surprised by how clever some of her creepy creations are because Bridget is a talented designer and storyboard artist and has even worked on movie sets with big stars that include Jane Fonda.  She has worked in art departments alongside Academy Award winning production designers and directors, so her talent is a treat to see and tricky to think of (like my Halloween lingo….I'm trying anyhow).  Check out Bridget's work at her website called Bridgetboards.  Here are her great ideas and some fun photos….
This first party decoration would certainly creep me out!  Bridget put this scary spectacle in the garage. Horror movie material for sure.  Bridget's party guests would pass by the garage as they arrived, and with a red spot light shining on the mannequin wearing a spooky mask, they did a double take, thinking it was a real person….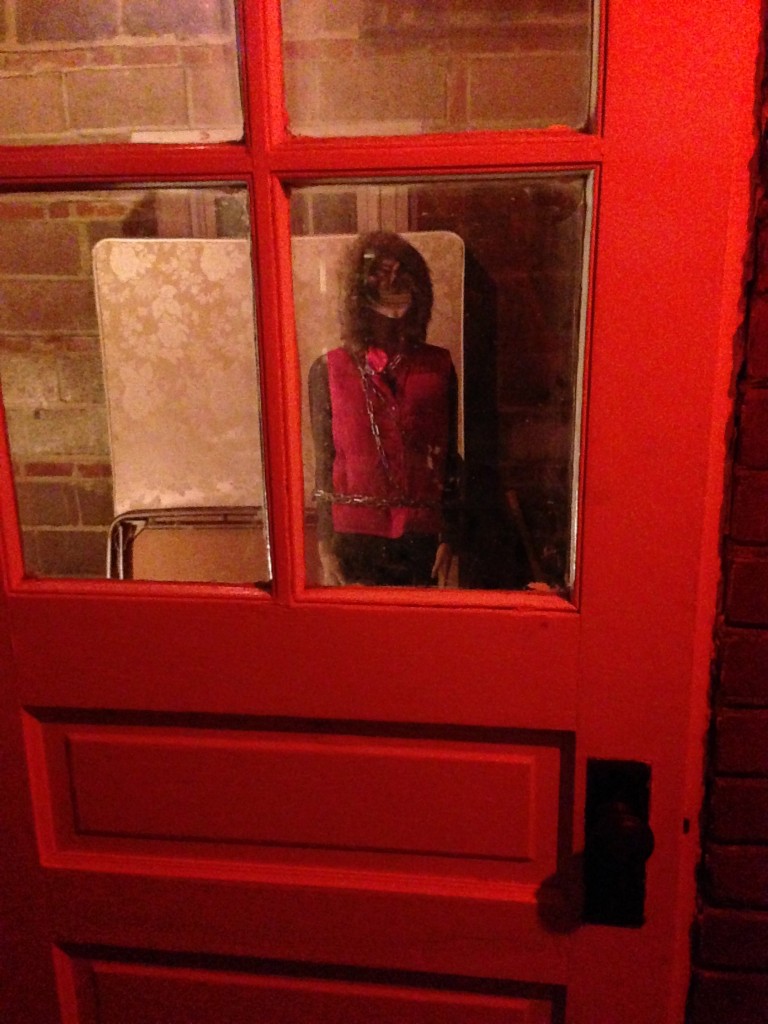 A little lighter and brighter idea they did was white out the living room area.  Bridget and friends decorated the living room in all white. They put white sheets on all the couches, turned the coffee table into a light box with a white sheet over it, hung a white deer skull and placed pumpkins over the fire place.  They played Halloween movies on the TV…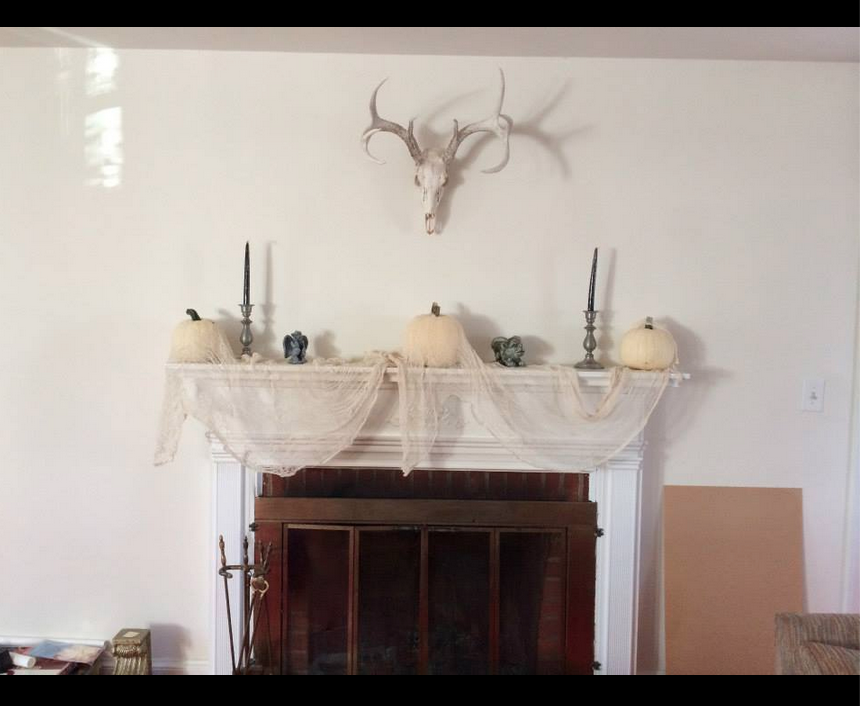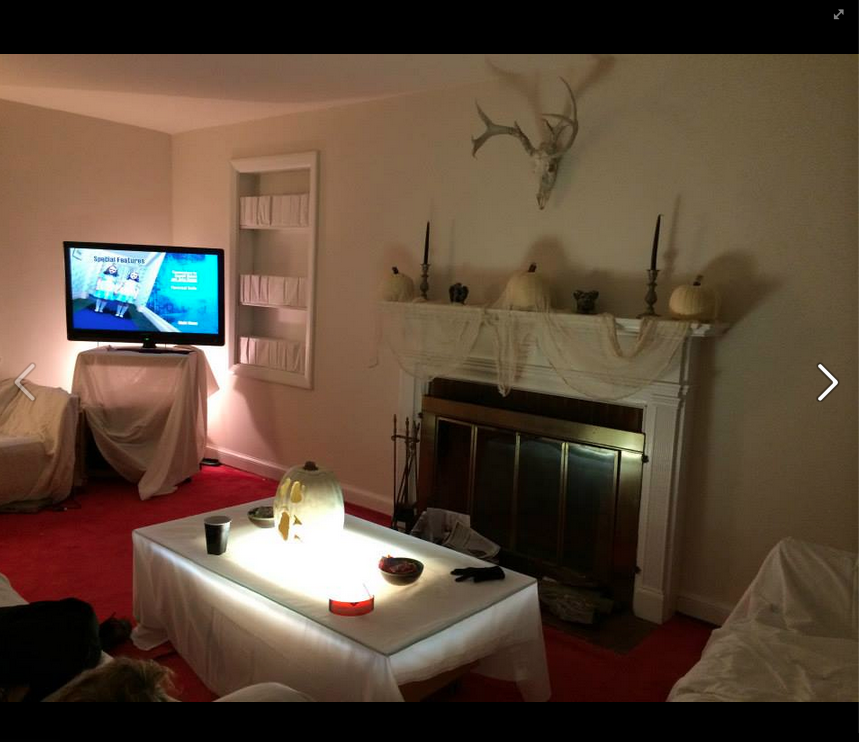 And the backyard became a bewitching haunted pumpkin patch….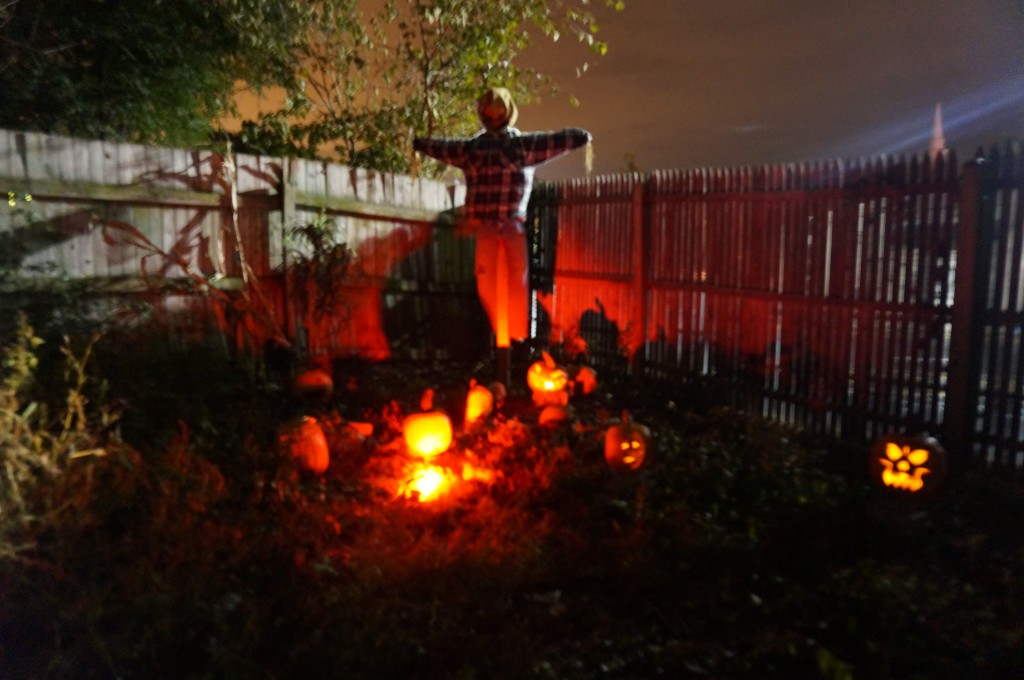 Bridget tells me that she made a toxic waste dump using her dead garden out back, which was the perfect use of space. They used a big oil drum and then slapped a toxic label on the barrel and surrounded it with milk jugs that had green glow sticks placed inside.  So clever….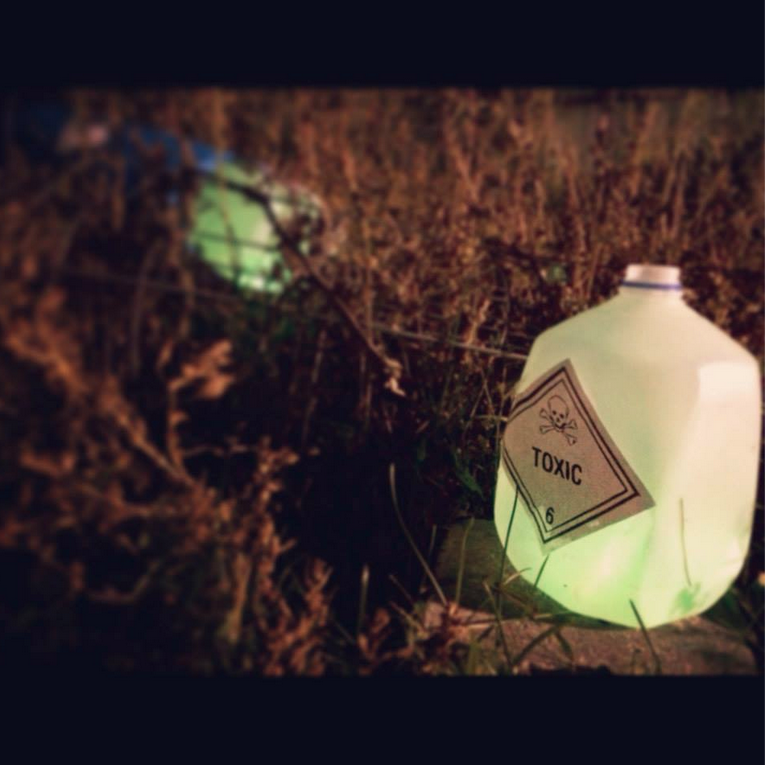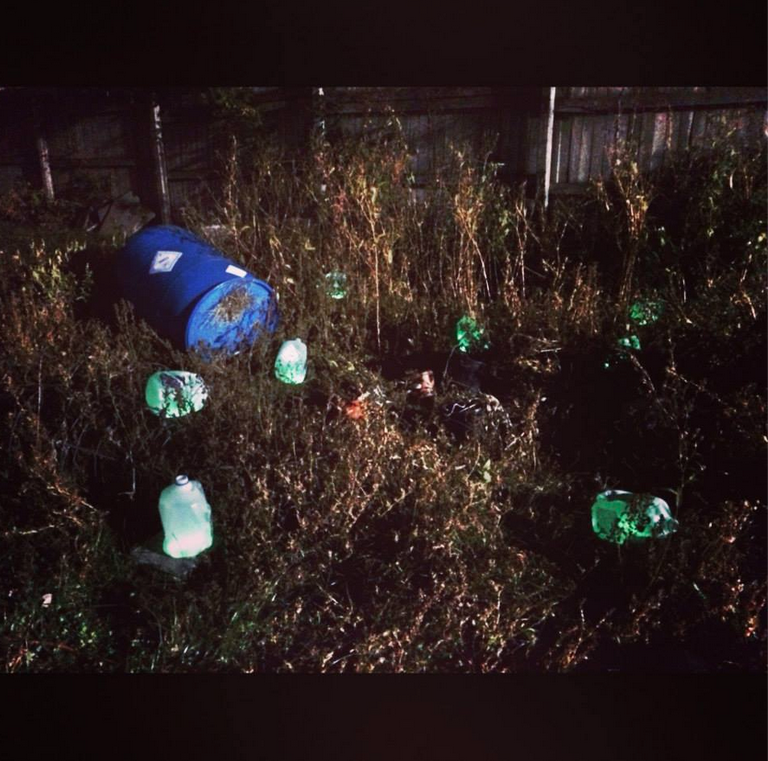 Next they turned the basement into a dance party area that was ready to rock.  Bridget says that red lights are key and the black light and strobe lights enhanced the eerie area.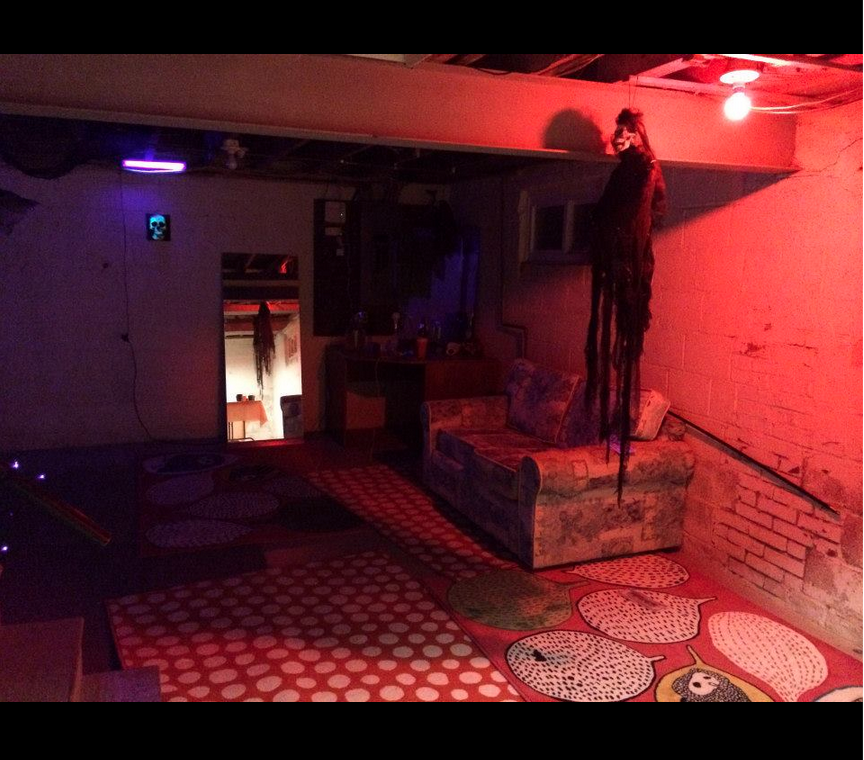 And no Halloween party is complete without a freaky food spread.  Bridget tells me that they got a large ham for ham sandwiches.  I love the gross puking pumpkin dish (Bridget says one of her clever friends brought that to the party)…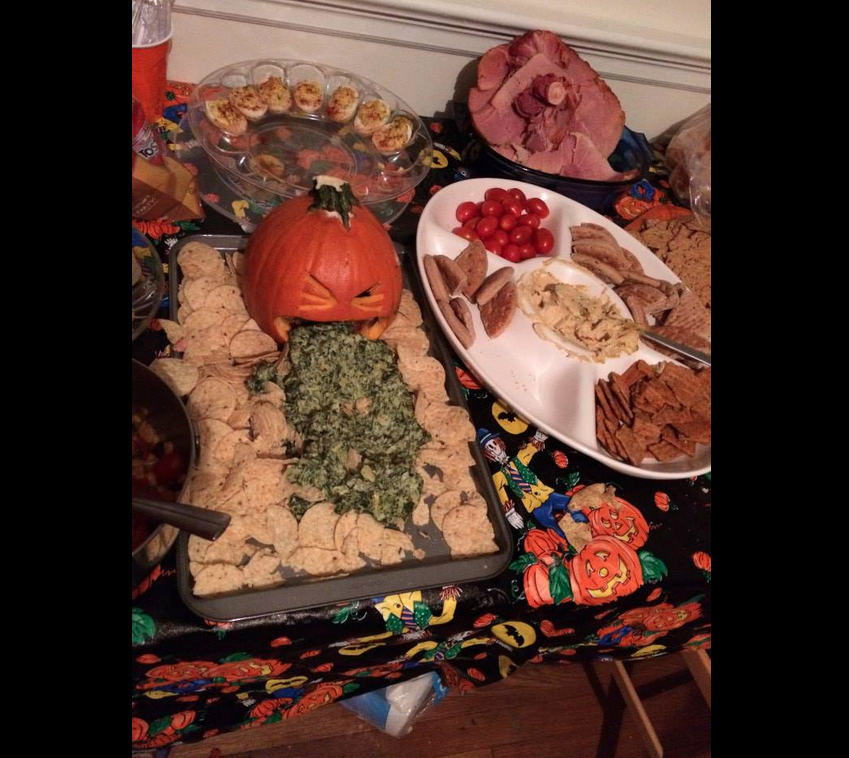 For drinks, they had a keg out back and inside they offered hot spiced (spiked) apple cider in a crock pot and orange vodka punch. To keep the punch chilled, they filled a dental glove with water, froze it and put it floating in the punch bowl.  So smart!  They also had orange and grape jell-o shots.  All great ideas to bookmark and remember for your future Halloween celebrations.
A big thank you to Bridget for sending us these unique pictures for future Halloween decor ideas.  Here she is enjoying her party.  You can easily spot Bridget and her boyfriend Joey because they are dressed as a couple from the future….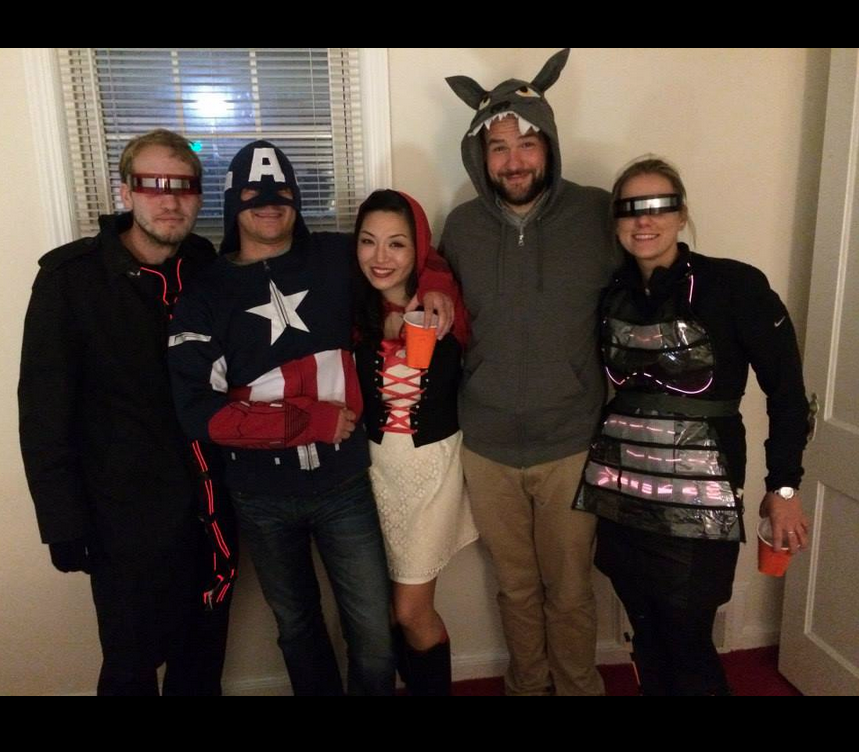 Remember to check out Bridget's creative Bridgetboards website.  I am a proud cousin and her work is quite clever and very good!
Have a safe and Happy Halloween everyone!