Manic:  Me through the years watching my boy play hockey since the 2nd grade.  At times, I definitely worried about injuries and especially with the many missing teeth hockey jokes I heard.
Managed:  Fortunately, so far my boy's injuries have been minor with one broken wrist and one broken ankle that both healed beautifully.  We always made sure that he had the best helmet available and wore his mouth gard, so that his face and head have been protected.  

So when local dentist John Dougherty D.D.S., MAGD offered to share his tips about protecting a kid's smile and mouth during contact sports, I thought this was a great idea and he has some good information that all parents of kids who play contact sports should know about, so read on about the importance and care of mouth guards.
Dr. Dougherty says:
 Guard their grins: How to keep your child's smile safe in contact sports
You've spent a lot of time and money taking care of your child's teeth, but nothing wipes the smile off a young athlete's face, or yours, faster than an accident on the field, court or ice.  Sport accidents can leave kids with broken teeth, fractured jaws and lacerated tongues, sometimes adding up to thousands of dollars in damage.
Safe practices:
The good news is that as your kids gear up for a new sport season a mouth guard can help keep them safe and smiling. In fact, according to the American Dental Association, an athlete is 60 times less likely to sustain a tooth injury when wearing a mouth guard!  This is a significant statistic for sure.
If your child or teenager has all their permanent teeth, it is time to invest in a custom mouth guard. Designed by a dentist using an impression of the teeth, a custom guard provides the best fit and protection available. At Artistic Dental, we can actually create custom mouth guards onsite in one to two days, which eliminates the need to wait weeks for delivery from an off-site laboratory.
For kids who have a mix of permanent and baby teeth, you should also consider a custom guard made; but due to continued growth and changes it will need to be remade at the start of every sport season. Mouth guards can be customized for teeth position changes, team colors, and initials. You can also choose the less expensive boil-and-bite guards, but studies have shown that in the event of an accident, they may not provide any more protection than if they weren't wearing one at all.
Making the investment:
The cost of custom mouth guards may vary by dental office, but can range from $80-$300.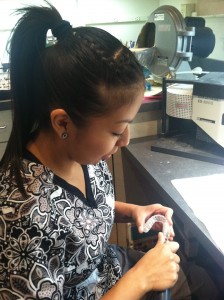 The investment will keep the risks of injury down and you will have a peace of mind that you are doing all you can to keep your child safe; which is worth the cost.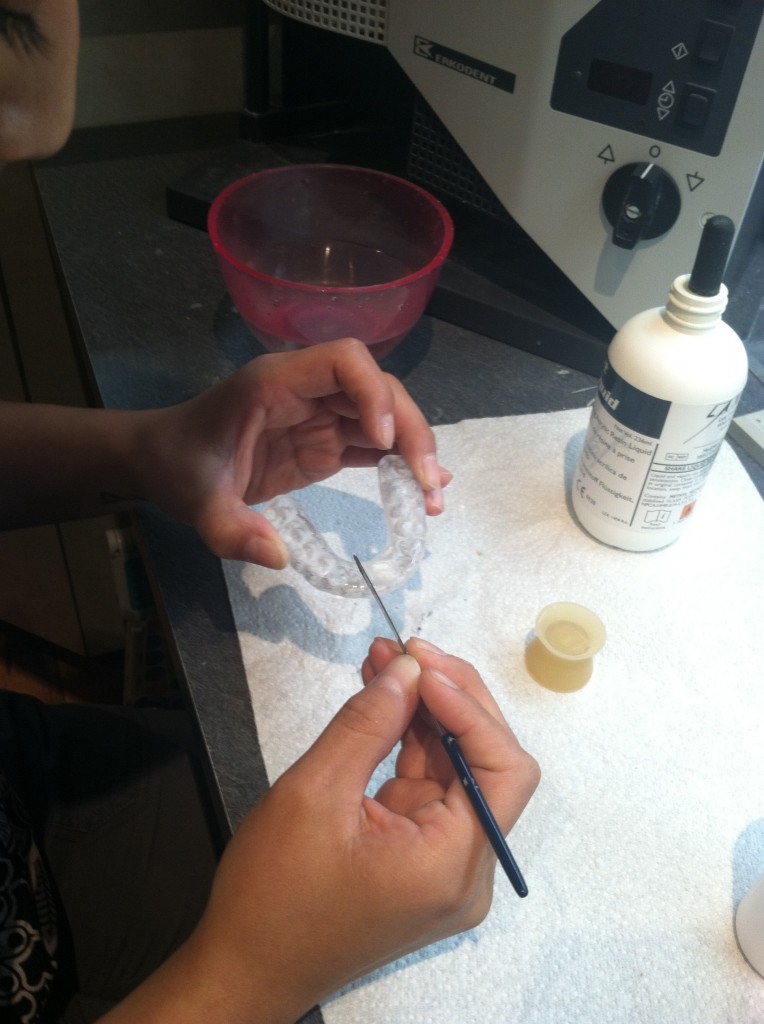 Children who still have all their baby teeth could wear a guard, but it can sometimes be a bit more challenging to get little ones to wear a guard. While they will eventually lose their baby teeth it is still beneficial to protect them, as the baby teeth provide space maintenance and guidance for the permanent teeth. My 5-year-old daughter plays Lacrosse and I have not made a mouth guard for her, yet. Once she starts losing teeth, I'll be making her one for sure.
Keep it clean:
Whether your child uses a custom mouth guard or a boil-and-bite protector, it's important to keep it clean. Dirty guards are breeding grounds for bacteria and mold, which can lead to infections, colds and herpes.
Brush the mouth guard every night with water and toothpaste and let it air dry. Keep it safe in a container and not loose in the gym bag. At least once a week, soak it in a bowl of Listerine or other antimicrobial cleaner. And next time your child heads to the dentist the mouth guard should go too! I like to sanitize my patients' mouth guards and make sure they're fitting properly.
Beware if you have pets! Dogs and cats love to chew them up, so if you have a furry friend in at home, instruct your child to clean the guards and put them away.
Remember, a mouth guard can't do its job if your child doesn't wear it. Accidents happen, but mouth guards can help keep your kids' smiles safe when they do.
About our guest writer, Dr. John Dougherty: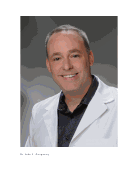 Dr. Dougherty has practiced dentistry in Arizona for almost 20 years and opened his own practice in Phoenix in 2000.  He is also a father with two daughters, ages five and eight. To learn more about dental care and the services Artistic Dental at the biltmore provides visit www.artisticd.com.