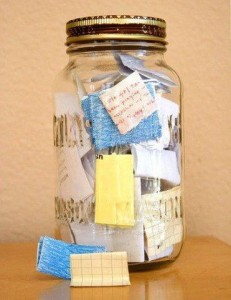 Last year I told you about a cool idea that I learned about called the Good Times Jar Project from one of my friends who shared this fun tradition on her Facebook page.  Our family started this last  January 1st with an empty jar. Throughout the year we wrote the good things that happened to us on little pieces of paper. On New Year's Day, we opened the jar and read each little paper aloud.  Here is what our jar looked like after we poured out the little notes….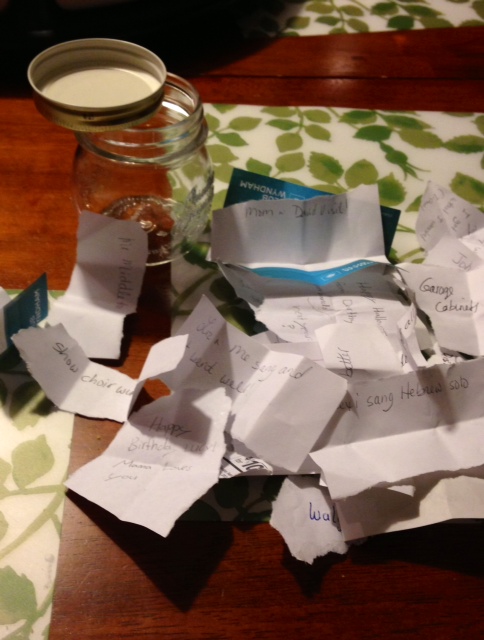 It was really fun to sit as a family and do this together.
Truth be told, it didn't go perfectly because neither my son or hubs put any memories in the jar!  I figured that the teenager skipped the exercise, but my husband claimed that he didn't know about it.  I could have sworn that I told him to do this.  Oh well!  I wasn't so good at this either because I ended up putting duplicate memories in more than once. That was embarrassing!  But we laughed at these hiccups and continued on each taking a turn unfolding a memory and reading it to each other as we ate our black eyed peas for good luck.
I was reminded about my Grandmother's huge recovery from her intense surgeries and illness.  That made us all smile. Another paper celebrated Lexi's show choir nationals win and our trip together for the cool competition.
Although my teenage boy didn't put his big 16th birthday milestone in the jar, his little sis did and he appreciated that gesture.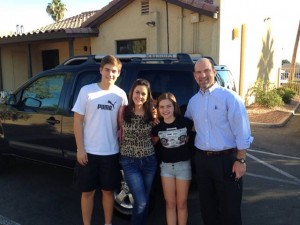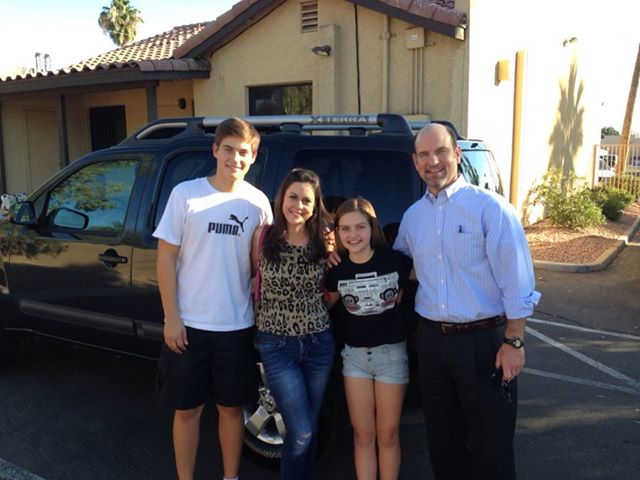 My family teased me for including new purchases, but hey….home improvement projects are a huge gift in my book and worth celebrating, so the garage cabinets, big exterior paint job and new hardwood floors were included in the folded papers as well.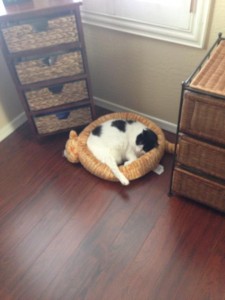 My mother and step-father surprised us with a visit that included getting to spend Easter with them, so we all loved remembering that weekend, too.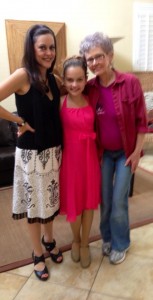 A flight to Phoenix hadn't been on their 2013 agenda, but it worked out that way and we loved it and enjoyed reflecting on their visit.
In fact, 2013 was a year that all the sets of grandparents got to come and stay with us….and that doesn't always happen since there are a lot of miles between our homes.
That was great to remember and celebrate.
We were also reminded of the month that we fostered Oliver the cat, who is now in a happy and loving home.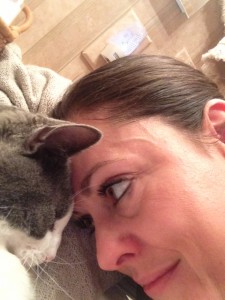 Fostering a cat was definitely a surprise we hadn't anticipated in 2013.
One memory that I forgot to put in the jar just happened a few weeks ago when my family gave me an afternoon posing for pictures in our neighborhood.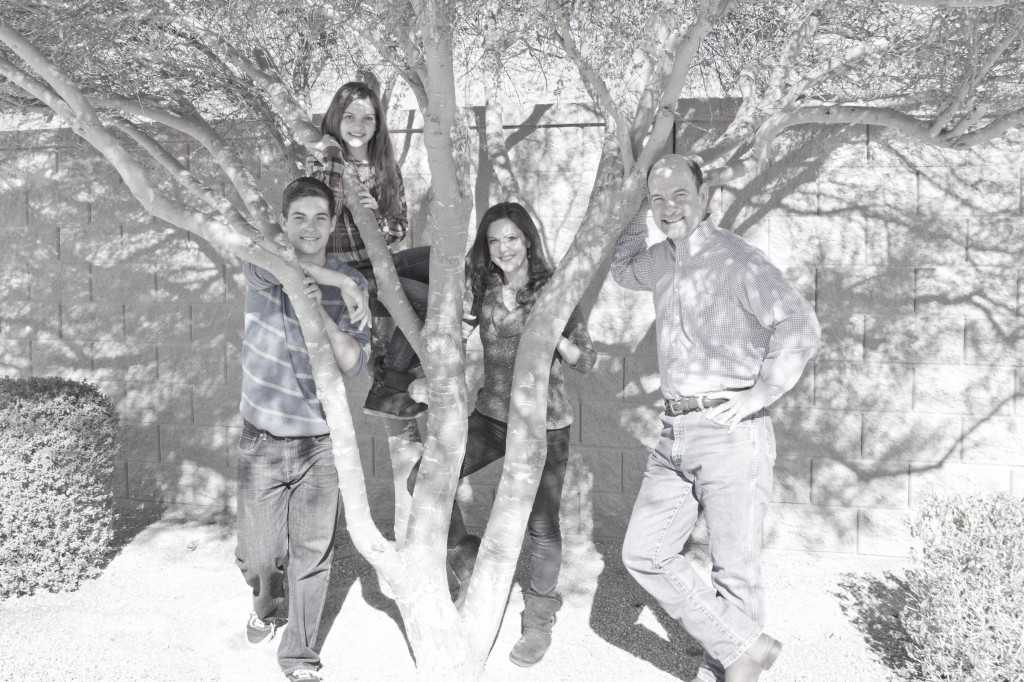 We unfolded a paper that celebrated our 20th wedding anniversary.  Another reminder of how time flies and now it will be 21 years this month on the 16th.
So even though the notes were from me and my girl, both of our guys agreed that this was a cool tradition and promised to participate next year.  I will let you know next January if they saw that promise through.
I look forward to continuing this tradition because with all of the unexpected bumps in the road of life, it is truly a blessing to get to spend time reflecting with my family on the memories of the good times.
The jar sits empty tonight and I look forward to our next happy memory to place in the 2014 jar.  I don't know what that will be or when it will happen, but I look forward to it just the same.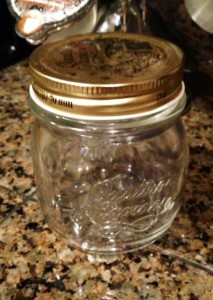 Every time I glance at that empty jar, I am reminded to be thankful and to take the good times with the challenging ones as we take on 2014.  Especially as it begins to fill up with new little papers….that hopefully are some that are deposited by the men in this family, too!  I think they might actually do it this year because it was pretty cool and we all enjoyed opening it up one year later.